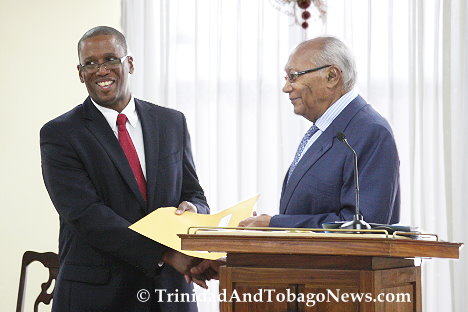 guardian.co.tt
January 05, 2012
Attorney General Anand Ramlogan cannot really be faulted in awarding silk to two sitting judges because there was precedence in the matter. That view on the controversial matter was given by Israel Khan SC yesterday. "When it was first announced I didn't give it much serious thought because there was precedence for a chief justice to take silk," he said. Khan recalled that former chief justice Clinton Bernard was awarded silk in 1988 by the attorney general of then National Alliance for Reconstruction (NAR) government.

So too, as a matter of fact, was former NAR prime minister Arthur NR Robinson, he noted. Khan also pointed out that a very senior silk, Karl Hudson-Phillips QC, was awarded silk while he was attorney general during the PNM administration in 1971. Hudson-Phillip has called on Archie and Kangaloo to forthwith return their instruments, bestowing the title senior counsel. He said the independence of the Judiciary was totally incompatible with holding a title which required service to the Crown/State/Government.
When Robinson and Bernard, not engaged in active practice at the Bar, were awarded silk in 1988, there also was public objection. Robinson, in a letter to the editor in September 1993, defending his acceptance of silk, said he made an application for silk as far back as 1981. He said he personallly delivered the application to the attorney general in the PNM administration at the time. Then attorney general Russell Martineau said he could see no objection, Robinson said.
He said years passed and he received no further official response and about 18 months after assuming the office of prime minister in the NAR Government then attorney general, Selwyn Richardson, presented him with an instrument appointing him to senior counsel. "Mr Richardson informed me that my application of 1981 was still lodged in the Red House with the comment 'no objection' on my letter," Robinson said. Khan, commenting on the awarding of silk to Archie and Kangaloo said: "You really can't fault the AG. He met precedent."
Khan noted that he, too, was of the view that awarding silk to sitting judges ran against the separation of powers. "They are judges and are not representing people at the Bar. Silk is really for advocates." Khan said there should be two categories in the awarding of silk. Heads of government departments should be awarded with honorary silk. Only advocates should be given real silk. He added: "It is with the greatest reluctance I say that the Chief Justice and Justice Kangaloo should consider whether they made a mistake in accepting silk."
http://www.guardian.co.tt/khan-don%E2%80%99t-blame-ag-it-was-done
Related Articles:
CJ Archie silent on returning of 'Silk'
Chief Justice Ivor Archie may not be relinquishing his newly-acquired "Silk" anytime soon and does not intend to make any statement on calls for him and Court of Appeal judge, Justice Wendell Kangaloo to return their instruments of appointment to senior counsel.
Lawyer: It's embarrassing
Astonishing, embarassing. These were some of the words used by former vice-president of the Law Association Hendrickson Seunath SC to describe the acceptance of silk by Chief Justice Ivor Archie and Appeal Court Judge, Justice Wendell Kangaloo, from Attorney General Anand Ramlogan last week.
Daly 'shocked' by silk appointments
CHIEF Justice Ivor Archie and Court of Appeal Judge Wendell Kangaloo continue to face mounting pressure following their decision to accept appointments to the rank of Senior Counsel while serving as members of the Judiciary.
Daly: Donkey cart through Judiciary
Chief Justice Ivor Archie and Court of Appeal Judge Wendell Kangaloo have driven a donkey cart through the separation of powers, says Senior Counsel Martin Daly.
Terrence Farrell: Sackcloth and silk
Practice inherited from Colonial past
The practice of awarding silk is one of several legal traditions inherited from Trinidad and Tobago's British Colonial past. In the United Kingdom Queen's Counsel are appointed by patent to be one of Her Majesty's counsel learned in the law.
Silk: The need to go back to class
Return 'silk' now
Tuesday's call by former Attorney General, Karl Hudson-Phillips, QC, one of the Commonwealth Caribbean's eminent jurists, for Chief Justice Ivor Archie and Appeal Court Judge, Justice Wendell Kangaloo, who recently accepted "Silk" to return their instruments forthwith has as its main plank the principle of the Separation of Powers.