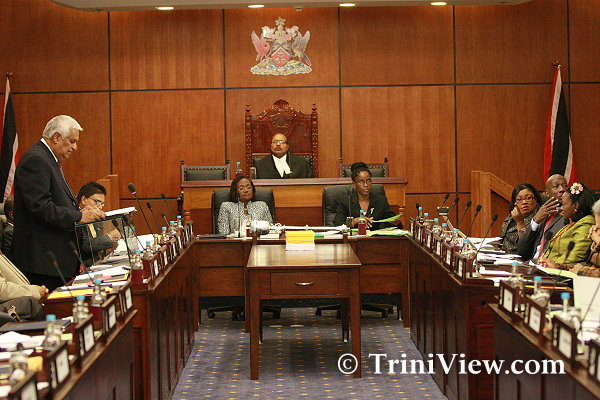 Budget Statement 2012
Finance Minister Winston Dookeran presented the National Budget for the fiscal year 2011-2012, in Parliament, at the Waterfront Complex, in Port of Spain, this afternoon. Below is the full text of the budget speech:

Heckles in Tower D
AS Finance Minister Winston Dookeran read Budget 2011/2012, the Opposition bench quips were probably no worse than on prior sittings in the Red House, but the small size of the new parliamentary chamber in Tower D of the International Waterfront Centre meant the tiniest comment was heard by all, exaggerating the impact of the "offence".
Minimum viewing space in gallery
$3,000 Pension: Benefits for retirees, homeowners, disabled
People who receive National Insurance pensions, prospective homeowners, the disabled and national security officers are the big winners in Finance Minister Winston Dookeran's $54.6 billion budget which was presented in the new Waterfront Parliament yesterday.
Rowley: Budget filled with deceit
Rowley: Govt silent on revenue
…Kamla: $7 billion deficit is okay
PRIME Minister Kamla Persad-Bissessar was unfazed by the $7 billion deficit in Budget 2011/2012, saying this was an okay price to pay for spurring growth, speaking to reporters after the Budget yesterday at Tower D of the International Waterfront Centre, Port-of-Spain.
Jack unhappy with Works $
WORKS and Infrastructure Minister Jack Warner yesterday said he was unhappy with funds his ministry was allocated in the 2012 Budget. However Warner said he has no choice but to make those funds work.
Dookeran: Investor confidence up
An optimistic budget for sure
In his presentation of the budget for the 2012 fiscal year, Minister of Finance Winston Dookeran attempts to lay the foundation for the Trinidad and Tobago economy in the medium term but, in doing so, the country may be exposed to some significant downside risks if the world economy continues to slow as has been widely predicted.
… 'Nothing generous about Tobago allocation'
Govt to look out for GATE abuse
Focus on CNG to reduce fuel subsidies
Farmers: What about us?
Farmers representatives are concerned that this year's Budget has not addressed issues of land tenure, and a dedicated labour plan for the agricultural sector, among other issues.
Hazel Brown happy with NIS amendments
$1,000 more for Prisons, Fire, Defence Force officers
…Protective services happy with $1,000 boost for all
Unions welcome benefits
The Prisons Officers' Association is "extremely" happy that the $1,000 tax-free allowance has been included in the 2011-2012. The association also welcomed the plan for a job evaluation exercise since it would raise the salary levels of prison officers.