By Raffique Shah
September 24, 2011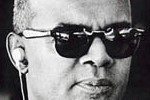 THIRTY-FIVE years ago yesterday, I became an MP in the first Parliament of the Republic of Trinidad and Tobago. It was an historic moment in many ways. I affirmed, meaning I did not take an oath using one of the holy books, which was not a first. But when I raised a clenched fist, symbol of the Black Power movement, as Clerk of the House Emmanuel Carter administered the affirmation, I glanced at Prime Minister Dr Eric Williams.

He was not looking in my direction: I imagined then that he did not want to witness the unthinkable.
Young and daring, I had gone to the House to make a statement, to ruffle conservative feathers. I wore a kakhi, militant-looking outfit, short sleeves, complete with epaulettes. I also wore my old army combat boots. Williams had never anticipated that moment—the arrival of Black Power in Parliament (Winston Murray of Tobago also affirmed with the clenched fist). His worst nightmare, an unrepentant mutineer taking a seat in what they saw as an august chamber, was playing out live before him.
As if to rub salt in Williams' wound, the following day the Express chose that image to adorn its front page. At a time when there was no television coverage of parliamentary sittings, no cellphones-cum-cameras, no You Tube, newspapers were the main source of information for the public and the world.
People who disliked Williams and the People's National Movement (PNM) in the wake of 1970 applauded my defiance. Others, Williams' supporters—and they were many—were appalled at my stance, my breaking the conventions of the Warminster model of government. I should add that for the five years I remained an MP, I maintained my own dress code. And in the 41 years since 1970, I have never worn a tie or a suit.
This column is not about me, though. It is about Dr Williams, who, had he lived, would have marked his 100th birthday today. I know there are some functions to celebrate the occasion. But for a minor personal problem, I would have been in England (along with Raoul Pantin, Selwyn Ryan and Brinsley Samaroo), preparing for a one-day conference at the University of London on Tuesday on the life and legacies of Dr Williams. Today, a number of academics are at Oxford University winding up a two-day discourse on Williams' contribution to history and to academia.
The centenary of the birth of a man who, as an individual, has had the greatest impact on the destiny of our nation, should have sparked much more interest than what we are not seeing. This is one of the tragedies of our time, of our country. We have no sense of history. We have succumbed to the fast-paced world of modern technology in which yesterday is history, last week never happened, and last year is not even a memory.
I am not suggesting that people come together to sing hallelujahs to Williams. Cuss him if you will for his sins of neglect of the "PNM constituency"—Laventille, Morvant, East Dry River—that wallows in misery 50-odd years after he first held the reins of government. Damn him for leaving us an incomplete education system that today churns out sub-standard material. Blame him for our crime woes, for not diversifying the economy, for leaving the country in a mess after 25 years as Prime Minister.
But recognise the man as one of the great leaders of his time, and possibly of all times, given that today, political pygmies crowd the global political stage. His contemporaries were giants like Norman Manley, Fidel Castro and Grantley Adams of the Caribbean, Jawaharlal Nehru, Gamal Nasser, Kwame Nkrumah, Ahmed Ben Bella of newly-independent ex-colonies, and Winston Churchill, Charles de Gaulle, Nikita Kruschev, Willy Brandt and John Kennedy of the developed world. He knew most of these men. There was mutual respect among them.
Their names may mean nothing to today's generations. In fact, even our politicians may not know of them, which is an indicator of our sense of history, or absence thereof.
Eric Williams was no saint. His arrogance knew no bounds. Last week, during a panel discussion on radio, Ferdie Ferreira, a foundation member of the PNM, described him as "unforgiving". I saw him as a walking contradiction, someone who recognised the savagery of slavery, indentureship and colonialism, but who easily sacrificed the lofty ideals of liberation of his people on the altar of opportunism.
In other words, whatever it took to retain power, he did it. But isn't that true of just about every politician? Only fools hold on to principles, which is why they never come close to the corridors of power.
Williams introduced an intellectual dimension to local politics at a time when running for office meant bad-mouthing one's opponents and making promises one could never keep. He built the PNM on a strong foundation of party discipline, something that was absent in all the opposition parties.
Initially, he promoted development planning for the country, as distinct from governing "by vaps". He would later eschew this, alienating the bright public servants who were architects of central planning.
He introduced free education at selected secondary schools in 1959, which took a tremendous burden off parents of poor but bright students. I was among the thousands of students who benefitted from that.
Whatever one may think of Dr Williams, what is indisputable is that he was a foundation pillar of modern Trinidad and Tobago. No one can deny him that place of pride in the nation's history.