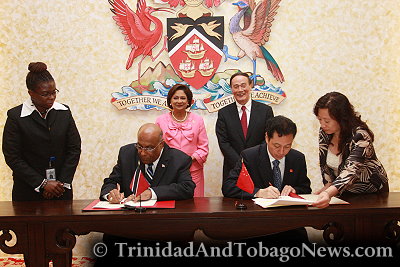 Trinidad and Tobago's Prime Minister Kamla Persad-Bissessar (rear left) and Chinese Vice Premier Wang Qishan (rear right) attend a signing ceremony for an intergovernmental agreement between the two countries at the Diplomatic Centre in St. Ann's Port of Spain, Trinidad and Tobago, on Monday, September 12, 2011.
Click here for more photos
$6B for region
By Andre Bagoo
September 13, 2011 – newsday.co.tt
IN A BOLD declaration of his country's bold ambitions for the Caribbean region, China's Vice Premier Wang Qishan yesterday unveiled a suite of measures including a $6.3 billion loan to regional governments, aimed at deepening cooperation between the People's Republic and the Caribbean.

In an opening address at the Third China-Caribbean Economic and Trade Cooperation Forum, the Vice Premier wasted little time unveiling a series of six concrete steps which his country will take to consolidate its already considerable influence in the region.
Among measures announced to thousands at the Regency Ballroom, Wrightson Road, Port-of-Spain, were:
• a US$1 billion ($6.3 billion) loan to Caribbean countries to support local economic development;
• a $6.3 million (US $1 million) donation to the Caricom Development Fund;
• measures to increase Caribbean exports to China;
• support for the building of seismic and tsunami warning systems as well as 2,500 training opportunities;
• training for doctors and nurses;
• measures to increase tourism flow between the regions;
• the provision of resources to boost agriculture and fisheries;
• support for the development of alternative, small-scale energy projects such as solar power.
The Vice Premier launched these initiatives amid the backdrop of the faltering US-led global economy.
"The underlying impact of the international financial crisis is still lingering and the global economic situation is extremely complex and uncertain," the Vice Premier told the delegates, which included local ministers and business officials, 13 Chinese ministers and 80 high-level Chinese business officials. "Against such a backdrop, enhancing cooperation in various fields between China and the Caribbean will go a long way in promoting economic development in our respective countries and ensuring world economic recovery."
Speaking with the aid of an interpreter, he declared the need for the world to embrace China's rise.
"China cannot develop itself in isolation of the world and the world needs China for its development," he said. "The comprehensive economic and social development in China will not only benefit the Chinese people but also bring opportunities to the Caribbean and the larger world."
He assured that, "China will stay committed to the path of peaceful development and steadfastly follow the win-win strategy of opening-up. We will, as always, support Caribbean countries in promoting economic development, improving people's livelihood, advancing regional integration and playing an active role in international affairs," he said. Of the $6.3 billion loan, the Vice Premier said, "China encourages exchanges and cooperation between the commercial banks of the two sides."
"The China Development Bank will set aside US$1 billion to be used as special commercial loans for infrastructural development," he said. Additionally, "China wants to discuss and sign an investment protection agreement with the Caribbean countries to promote two-way investment."
The loan and donation, he said, would be first among six areas of assistance.
"Secondly, we will step up capacity building cooperation," he said. "China will provide no less than 2,500 training opportunities for the Caribbean countries and 30 opportunities with master's degrees for Caribbean professionals to study in China." This would be in addition to the efforts to build seismic warning centres.
A third area, he said, would be "exchanges and cooperation with Caribbean countries in such fields as environmental protection and new energies" including solar.
"Fourthly, we will intensify cultural, educational and health cooperation," he said. "China will build 'friendship schools' for Caribbean countries and provide assistance in terms of Chinese language teaching, teachers and textbooks. We will continue to provide scholarships to Caribbean countries and stand ready to negotiate the signing of agreements on mutual recognition of diploma and degrees with Caribbean countries."
"We encourage schools on both sides to forge sister relationships," he said. "We will continue to send medical teams to Caribbean countries and provide training for your doctors and nurses."
Fifthly, he said, China would encourage Caribbean countries to increase their exports to China and diversifying the export mix.
"We encourage Caribbean enterprises to come to China for important exhibitions and trade fairs to promote their products with competitive advantages. Likewise, we also encourage Chinese enterprises to go to Caribbean countries for exports expositions to increase their imports from Caribbean countries."
Tourism promotions between the regions would be bolstered, he said. In a sixth area, the Vice Premier said China would continue to send agricultural experts to run agricultural and fishery projects.
"China's Ministry of Agriculture will sign the Common Initiative on Agriculture and Fisheries Cooperation with the agricultural authorities of Caribbean countries and set-up the China-Caribbean Working Group on Agricultural and Fisheries Cooperation so as to promote cooperation."
Speaking at the same event, Prime Minister Kamla Persad-Bissessar announced that Trinidad and Tobago will set up a trade office at the Trinidad and Tobago Embassy in Beijing. "China's willingness to tap into the Caribbean market should be seen as an indication of their confidence in this region," she said. She asked participants to seek to "develop this relationship in a way that will be mutually beneficial for all of us."
http://www.newsday.co.tt/news/0,147140.html
***
China grants US$6m to T&T
Prime Minister Kamla Persad-Bissessar says T&T is to receive a 40 million Yuan (US$6.26m) grant from the Chinese Government.
TT gets $40M grant from China
The Peoples' Republic of China yesterday gave Trinidad and Tobago Yuan 40 million grant (TT $1 = Yuan 0.998359) to engage in mutually acceptable projects between the two countries.
Finance Minister: T&T intensifying relations with China
China is now a major global player and it is important for T&T to continue to build relationships with them, Finance Minister Winston Dookeran said yesterday.
Kamla: Ties between T&T, China will be stronger
Ties between Trinidad and Tobago and China will soon be stronger as Prime Minister Kamla Persad-Bissessar announced that a Trade and Investment Office will be established in China as part of a proposed Trinidad and Tobago Embassy in the People's Republic of China.
Dookeran: $207M Chinese loan for NAPA
TO PAY for remedial works done on the National Academy for the Performing Arts (NAPA), the State has agreed to a loan extension to the tune of $207 million from the Export-Import (EXIM) Bank of China, Finance Minister Winston Dookeran disclosed yesterday.
Trinidad and Tobago PM, Chinese Vice Premier Discuss Bilateral Ties
Trinidad and Tobago's Prime Minister Kamla Persad-Bissessar exchanged views with Chinese Vice Premier Wang Qishan on bilateral relations Monday.
China Woos Caribbean With Offer of $1 Billion in Loans
http://www.cnbc.com/id/44494281