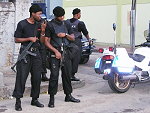 GANG LEADERS HELD AT HYATT
Two gang leaders hiding out at the exclusive Hyatt Regency Hotel in Port-of-Spain were arrested yesterday morning by police under the anti-gang legislation. The two men ages 36 and 31, along with a 22-year-old woman checked into the hotel on Tuesday and stored large sums of cash and jewelry in safes provided in the hotel room suites. The men reportedly were staying on a day to day basis and paid US$250 (TT$1,600) per day.

…Hyatt Hideout
POLICE yesterday swooped down on the Hyatt Regency Hotel in Port of Spain and arrested two men they say are leaders of well-known criminal gangs in Sea Lots, Port of Spain.
…Alleged gangsters held at Presidential Suite
Pres: $20m drug bust and fear of gang warfare
The Government announced the state of emergency five days after a $20 million drug bust was carried out on August 16 and the threat of gang warfare arose.
Rowley has more questions for Govt
APART from questioning Government about the reasons why it implemented a state of emergency in the country, Opposition Leader Dr Keith Rowley has other issues to raise with the Government when the House of Representatives sits on September 2.
462 arrests in 5 days
THERE HAVE been 462 arrests thus far over the last five days, Police Commissioner Dwayne Gibbs said yesterday as the country prepared to enter another day under a state of emergency which has seen 190 people arrested in relation to criminal gang-activity.
Kamla: We'll take them out in one way or another
Cutlass named 'Beyonce'
BRIAN Harricharan, 32, one of three men who were allegedly beaten by soldiers near their Claxton Bay home on Thursday morning, remained warded yesterday at the San Fernando General Hospital.
Ramlogan: Gangs offering $10,000 to take licks
GANGS are engaged in a public relations ploy to garner sympathy from citizens and prevent law enforcement officials from infiltrating their illegal organisations, Attorney General Anand Ramlogan has said.
…Claims of licks by lawmen false—AG
Less crime, more business
THE CURRENT state of emergency has resulted in losses in several sectors of the local economy, but Central Bank Governor Ewart Williams hopes these losses will be compensated by future benefits.
Tewarie: Emergency Losses a price business must pay
PLANNING Minister Dr Bhoe Tewarie says individuals and businesses losing money due to the State of Emergency need to look at the "big picture" and it was a cost that had to be borne.
Waterhole man accused of being gang leader
JASON LEWIS was reportedly the first person to be charged with being a gang leader under the Anti-Gang legislation.
Nine held for gang involvement, narcotics
NINE men were arrested for gang involvement and narcotics during a police exercise in Princes Town and New Grant yesterday.
Shotgun, army gear recovered
THE WAR on crime continued on Thursday night with officers of the North Eastern Task Force recovering a shotgun, one kilo of marijuana, an army vest and pants, and two ski masks from a house in Morvant.
32 charged under new Anti-Gang Act
Lawyers cry 'foul' against (60) gang charges
The sons of a recent murder victim and a Cocorite businessman were among 60 people appearing yesterday in the Port-of-Spain Magistrates' Court charged under the anti-gang legislation.
Subhas calls for review of Anti-Gang Act
He may have been part of the team that drafted the Anti-Gang Act. However, former minister in the Ministry of National Security Subhas Panday now says the law should be reviewed
Jack: Labour leaders 'begging' for detention
Works Minister Jack Warner feels that some trade union leaders are "begging" to be detained during the State of Emergency so that they could become "martyrs". But he says they would not get their wish.
'Emergency' not a war against unions, says Indarsingh
Jack: We'll pave roads at night
Warner said yesterday that Prime Minister Kamla Persad-Bissessar has instructed him to continue paving "left, right and centre" (throughout the country) by night—during the hours of the curfew.
Tribunal to hear cases at Hall of Justice
THE TRIBUNAL appointed to review cases of persons detained under emergency provisions of the state of emergency will hear applications lodged in north and south Trinidad as well as Tobago, the tribunal members said this week as they explained that the tribunal is meant to only handle cases involving persons detained under the specific orders and regulations governing the state of emergency.
…High Court Judge: T&T public still has some rights
While the state of emergency has taken away some rights, High Court Judge Ricky Rahim says citizens still have the right to approach the Judiciary for help.
…Judge bats for citizens' rights
Hinds: Review Tribunal a waste of $$
PNM Senator Fitzgerald Hinds is predicting that the Review Tribunal established to hear the cases of people detained under the Emergency Powers Regulations will be a waste of resources and money.
Four men in court for breach of curfew
FOUR persons, including two homeless men, appeared in court yesterday charged with breaching the curfew.
3 fined $500 each for breaching curfew
Volney: Backlog will be addressed
JUSTICE MINISTER Herbert Volney yesterday said an additional backlog will be created for the country's judicial system when it has to deal with the persons who were detained by security forces under the state of emergency. However, he was confident it would be dealt with.
Soldiers called to PM's side
Protest at St Paul Street
Cop accidentally shot by colleague
A POLICEMAN awaiting instructions to go on a police exercise during the State of Emergency on Thursday night was struck by a bullet which was reportedly discharged from a gun being cleaned by a fellow officer.
No room at the prisons
Prison officers are concerned about severe overcrowding at the nation's prisons resulting from the large number of people arrested over the last few days during the state of emergency.
Making it work
As the country enters its first weekend under the current state of emergency, we need to monitor, and indeed evaluate its effectiveness to date. And we do so not just in terms of the actions of the Government and the security services, but also from the perspective of the citizens, and formal groups, such as labour, business, and even ourselves, the media, and of course, the opposition.
St Lucia holds off curfew due to tourism impact
Gang activity to blame for 15 killings in 3 months: