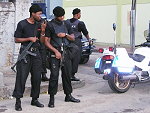 TIME FOR ACTION
SAYING desperate times require desperate measures, Attorney General Anand Ramlogan yesterday declared war on criminals as the State unveiled a programme of heightened police action and appealed to citizens to stay home during the curfew hours of 9 pm to 5 am at six listed regional corporations.
'The war is on…'
Persons arrested and detained under the limited state of emergency in force throughout north, south, east and central Trinidad for the next 14 days, will not be immediately allowed bail, Attorney General Anand Ramlogan indicated yesterday.

AG vows to make country safe again
Cops can arrest without charge
ANY CITIZEN who is arrested can be detained by the police without charge for at least 24 hours, Attorney General Anand Ramlogan advised yesterday as the police took up extraordinary stop and search powers under emergency orders relating to six local government corporations.
Kamla: No need for anxiety
Prime Minister Kamla Persad-Bissessar last evening assured citizens that the state of emergency was a well thought-out plan which will be carried out with precision.
Jack: No apology for emergency
Minister of Works and Infrastructure Jack Warner yesterday said Government makes no apology for the limited state of emergency in its bid to fight the upsurge in the crime rate in hot spot areas.
Seetahal supports State of Emergency
SENIOR Counsel Dana Seetahal says she has always been an advocate of the declaration of a State of Emergency in "certain selected areas".
Suruj: A stage in crime plan
"PEOPLE are fed up living under siege!"
Curfew permits for essential services
The Police Service yesterday advised that it will facilitate all essential services in Trinidad and Tobago with a valid curfew permit.
Devant: No one will be stranded
There were long lines for buses and maxi taxis at City Gate last evening, as workers and commuters in Port-of-Spain rushed to get home before the main transportation hub shut down at 8 pm, ahead of the curfew which took effect at 9 pm.
National Security Minister: Govt was planning 12-hour curfew
Government had initially planned to implement a daily 6 pm to 6 am curfew in "hot spots" involved in the limited state of emergency, National Security Minister John Sandy said yesterday.
Sandy: Heightened patrol by cops
Police officers will conduct heightened patrols throughout the country during the next 14 days. Minister of National Security Brig John Sandy yesterday confirmed that the state of emergency will run for the period but if an extension becomes necessary after that time, the matter will be taken to Cabinet for approval.
Commissioner sounds warning to criminals: Look out!
Beetham residents fear cops will use 'excessive force'
No maxi service after 8 p.m.
Maxi taxi and bus services out of Port of Spain during the State of Emergency will stop from 8 p.m.
Two inbound American Airlines flights cancelled
Two American Airlines flights coming to Trinidad and Tobago were cancelled because of the State of Emergency in the country.
Curfew causes havoc with night events
Meetings were held yesterday afternoon by a large number of event co-ordinators to decide whether they should go ahead with plans after Government announced a limited state of emergency.
Limers caught napping as cops set up dragnets
Bar owners, taxi drivers hit curfew
IT WAS business as usual in San Fernando yesterday on the first day of the imposition of a limited state of emergency as citizens went about their day to day activities.
Arima mayor backs PM's move
Arima mayor Ghassan Youseph says he is confident in Government's state of emergency measures.
Unions concerned over State of Emergency
Trade union leaders have expressed concern over the State of Emergency and curfew announced by Prime Minister Kamla Persad-Bissessar but all agreed Government could not continue to sit idly by in light of the present crime situation.
It's an attempt to undermine unions
An hour before Government's limited state of emergency kicked in, president general of the Oilfields Workers' Trade Union Ancel Roget accused Prime Minister Kamla Persad-Bissessar of attempting to undermine the labour movement by enforcing a limited curfew in hot spot crime areas.
South businessmen support emergency
President of the San Fernando Business Association (SFBA), Daphne Bartlett, is in full support of the limited state of emergency which took effect from midnight on Sunday.
Prestige Holdings: Our workers' security is our main concern
Chairman of Prestige Holdings, Joseph Esau, says the limited State of Emergency will have a negative effect on its businesses, including KFC, but a drastic measure was required to address the crime situation.
St James to get some sleep
ST JAMES, the city that never sleeps, will be having regular night naps for the next two weeks as businessmen said they are willing to adjust to the curfew because of the high crime rate in the area.
IRO/Maha Sabha support State of Emergency
The Inter-Religious Organisation (IRO) of TT is supporting the introduction of the limited state of emergency as part of government's efforts to curb crime
Muslims look for extended curfew
Fasting Muslims who are observing the holy month of Ramadan hope Government will extend their curfew by half-an-hour for them to observe their nightly prayers at their mosques.
DOMA sees negative effect
The 9 pm curfew imposed will cause substantial disruption for the business community.
Businesses: Losses are necessary sacrifices
Lee Sing: Govt has run out of cards
The Prime Minister and her Cabinet have run out of cards to play and have had to resort to draconian measures to control crime.
PNM backs Government in crime war
THE OPPOSITION People's National Movement (PNM) yesterday said it was not opposed to Government's declaration of a limited state of emergency to deal with the country's crime problem.
Khan: Rowley's letter forced emergency
Chairman of the People's National Movement (PNM) Franklin Khan says Government has finally recognised the gravity of the crime situation in the country.
PNM: State of Emergency not properly executed
The People's National Movement (PNM) has nothing against the declaration of the State of Emergency in principle, Party Chairman Franklin Khan said yesterday at a press conference at Balisier House.
Curfew backed but concern over image
Filled with little hope and lots of scepticism, residents of areas designated as "hot spots" by the Government are ready and willing to co-operate with the imposed 9 pm to 5 am curfew.
State of Emergency an inevitable response
Trinidad and Tobago, which woke up yesterday under a State of Emergency, went to bed last night with hope for the efficacy of the actions undertaken under that extreme security umbrella. This country has been there before. The emergency declared into being by President Max Richards stands to be measured both for cause and effect against episodes relatively fresh in public and institutional memory.
Let's support state of emergency
Prime Minister Kamla Persad-Bissessar's announcement on Sunday night that the National Security Council had decided to implement a limited state of emergency would have come as a surprise to many
Send Gibbs home!
President of the Police Social and Welfare Association Sgt Anand Ramesar yesterday called on Prime Minister Kamla Persad-Bissessar to act swiftly and remove Police commissioner Dwayne Gibbs as Head of the Trinidad and Tobago Police Service because he fells that he has not only failed fellow police officers but has let down all citizens of Trinidad and Tobago.
Lawmen kill two in botched robbery bid
Two well-known robbers were killed by police early yesterday morning during an attempted robbery in Arima.
2 gunmen killed by cops
SEVEN HOURS after this country was placed under a limited state of emergency police officers swung into action killing two thieves and apprehending a third, during a foiled early morning robbery at an Arima racing pool yesterday.