By Raffique Shah
April 03, 2023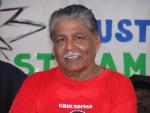 As we mature in life, reaching what most people consider their mid-years, we may occasionally pause and consider what older folks have been preaching for as far back as we remember: you lose so many friends in your latter life, it's not funny. I am seventy-seven, and I often consider that in my tiny community, there are only two other men, no women, of similar age who can reflect on events that occurred when we were, say, forty.

There is a crisis of sorts among geriatrics, one demographic that grows almost daily, faster than even young men who have become gun-and-bandit-fodder in this crime-ridden era: the few adults with whom we can hold conversations are becoming fewer. Unless you are among those who gravitate to sitcoms of a million years ago—Cosby, Sanford—or, like me, you have read most of the good, stimulating books that have been written, what does an old man do?
My friend David Brizan, who is mere months ahead of me, has, like thousands others, made golf his second life. I know that besides costing you some of your retirement benefits, it does provide exercise value. But that is for people who are fully mobile, not victims of Parkinson's, like me. Still, David and I would converse for near hours on a range of topics that we both enjoy, from history to health and most of all poking fun at public figures. I shall linger a little on the relation between David and me: I first met him in 1965 when he joined us at Sandhurst, an enthusiastic spit-and-polish officer cadet who like us before him had no idea what he would face over that grueling two-year course.
I having endured the experience saw the need to advise him on ways and means of making it easier for him. Sandhurst is hell. The young officer-cadet must understand the treatment that will be meted-out to him, and to psychologically and physically keep himself in shape to graduate from that hell-hole that in the 1960s was tougher on non-Whites than others.
Anyway, time flies and so does the Sandhurst experience— the good, the bad and the uglier side of that elite military academy. By the time David returned to T&T in 1966-1967, Trinidad and Tobago was boiling in revolutionary spill-over from North America and Europe as well as liberation wars in Vietnam, Mozambique what was then Rhodesia, and other colonies of imperial Europe. While at Sandhurst, we had read extensively from the works of Castro and Che, Stokely and Fanon, and others. We had a great interest in what was happening across the world. David returned alongside Lennox 'Sqingy' Gordon and the men's barracks were also boiling with revolutionary talk and literature.
I shan't go into the details and events of 1970 here: another time, another place. I must however indicate, that David and I, 'Sqingy', Rex Lassalle, Mike Bazie were among the bright, young officers who mixed with our men in discussing global revolutionary developments. It was as if our thirst for knowledge was insatiable. Outside of the barracks, the young people of the country were also rising up, criticising the neo-colonial society that we inherited from the British. Everything will overflow or maybe more applicable, explode on April 21st. And, the rest as they say, is history.
Rex and I, and Mike Bazie to an extent led the charge for change in the military. David was by then on a military course in Canada. A letter he wrote to Rex from his training location landed him before a court-martial which sentenced him to imprisonment. We officers and many of the soldiers faced similar fates. But Rex and I, working with our lawyers had the courts set us free after 27 months in prison. As the post-prison years rolled by, we followed different paths. All these streams kept us exercising our intellects, using our brains, our skills and our training at Sandhurst to advance in a post-revolutionary environment in which others may have buckled. Mostly, we fought back in different ways. One thing, we never gave up on our country and we never stopped discussing its options for change. What is striking about us is that our race differences (I was the only Indian officer at that time) did not exist or impede our bonding from those who stayed on and rose to high command ranks to us on the outside, we lived the only way we knew it, as patriotic Trinis and Tobagonians ought to live.
David and I, even now, continue to build on that bond from fifty-odd years ago. He came from Trou Macaque Laventille, I from Beaucarro, Freeport and Mike from La Brea joins in. Three old Sandhurst graduates, schooled on the streets of this country, still trying to hold it together as one country in which race has no place.