By Stephen Kangal
December 23, 2021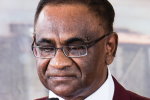 The emotionally charged response of Prime Minister Rowley to the Sunday Express feature article is exclusively more political than the requisite scientific in relation to his weak defense of the alleged low efficacy of the Sinopharm vaccine.
He procured it with a secretive agreement from the Chinese with a huge cost — loan in a large quantity without obtaining any expected guarantee about its expected efficacy level even though scientists from developed countries refused to accept it as a genuine vaccine because trial results were not published globally and were not accessible.

It is a fact that the largest amount of people who died globally during the current pandemic were those who received the Sinopharm.
The appropriate and credible medical professional to react to the St Augustine Medical Lab's alleged report highlighted by the Express should have been the CMO, Dr Roshan Parasram—not a politician like Rowley whose credibility in things political hit ground zero two weeks ago.
Dr. Rowley has Sinopharm cocoa in the sun.
The argumentation that he invoked for chastising the Express are all political and non-scientific.
The development of COVID vaccines is evolutionary and a work in progress starting with the current emergency use of all the vaccines without undergoing the time-consuming trials on a large scale basis. COVID vaccines are producing millions of guinea pigs today in the Third World.
It is quite clear the Sinopharm Chinese vaccine falls short of generating the requisite titers or levels of neutralising antibodies and therefore failed to measure up to sustainable protection. It was a Chinese scam that Rowley acquired without obtaining the necessary and mandatory medical guarantees from the PRC at a huge cost to the T&T tax-payer.
Have we done any research on the 2600 and counting fatalities in T&T and how many of the 2600 received the Sinopharm vaccine? Should we still be offering the non-inducing neutralising antibodies Sinopharm to our people? Must we not go for the Pfizer as the preferred and well-documented generator of neutralising antibody alternative?
When the Sinopharm contract was signed with a billion-dollar Chinese loan T&T was buying cat in bag, the cat has escaped and hundreds of our people may have perished albeit fully vaccinated.
This is what happens when politicians and rock scientists make medical decisions with respect to our response to the COVID pandemic.