By Dr Selwyn R. Cudjoe
November 08, 2021
"Why boasteth thyself/Oh, evil men/ Playing smart/ And not being clever?/ I said, you're working iniquity/ To achieve vanity (if a-so a so)/ But the goodness of Jah, Jah/I-dureth for-I-ever."

—Bob Marley, "Small Axe"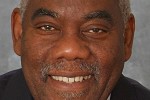 Barbados, the tiny Caribbean island with just about 287,371 souls "has been punching well above its weight of late," says the Black Agenda Report (November 3). In fact, many people within the global community have taken note of Mia Mottley's (Barbados Prime Minister) speech, "Get Up, Stand Up," that she delivered to the United Nation's General Assembly in New York last September, and now the world is buzzing (certainly those people in the Black and Brown world) over her "impassioned address," to COP26, the UN Climate Conference held in Glasgow, Scotland.

Mottley reminded the world that Barbados, like much of the Caribbean and other small states, is facing an existentialist threat "from climate change as rising sea levels, the destruction of underwater ecologies, and increasingly powerful hurricanes have the potential to wipe the archipelago off the map."
Mottley's speech was eloquent, gut-wrenching and informed. She made us proud of our Caribbeanness. Anyone who has stood in Port of Spain on a rainy day to shelter as the South Quay pavement or Broadway flooded knows what Mottley is talking about. They also know we are in trouble when they see the Styrofoam cups dancing along the Dry River any time the rains fall and the river comes down. They realize that soon our capital city will be underwater.
While I accept everything that Mottley asserted and accepted her proposition that "the pandemic has taught us that national solutions to global problems do not work," there is much that we can do nationally to deal with our environmental problems. If we forget this truism we have lost the battle before we start.
Part of the small things we can do to improve our environment is to prevent our big shots from building their homes in the mountains, and cutting away our forests that creates tremendous flooding in places such as Tacarigua, Tunapuna, and Arouca, which never experienced such flooding when I grew up there. Even worse, we must stop building houses on our prime agricultural lands. It makes us all the poorer.
In 1995, on the 350th anniversary of the village of Tacarigua, I authored Tacarigua: A Village in Trinidad. I wrote: "The distrikers [villagers] of Tacarigua and the citizens of the entire island need to adopt a new ideology of biological awareness that stresses the sanctity of biological processes and the interaction that underlies the natural systems around and within us.
"If the Amerindians, in all their technological backwardness—was it really backwardness?—understood the need to live in harmony with their environment, can't we in the twentieth century, understand the precious/precarious balance between our biological, our ecological, and our political systems?
"Steps must be taken to cut off the sewage and the fertilizers that run into the Tacarigua River; the stilt must be removed so that the water can flow again; nothing should be done to disrupt the water patterns; we should develop a program that prevents the contamination of the aquifers, and we should begin to check the manner in which we deforest our region."
In 2013, the PP government proposed to build a sporting complex on the Orange Grove Savannah (the Eddie Hart Grounds) in which they intended to place international cricket and football fields with a track made of rubber and a concrete stand that could hold a thousand people. They also proposed to construct a swimming pool on one of the playing fields and a car park for 300 cars, a pavilion and a road to connect the two grounds.
The only problem with this plan was that Orange Grove Savannah is a natural aquifer. It contains 12 water pumps that supply water for most of east Trinidad. Luckily the people of the Tacarigua area organized themselves, took the Government to court and prevented it from committing a major environmental disaster. We won.
Last year I wrote "Black Betrayal" in which I reported the words of Aaron St. John who spoke about the feces and stench that surrounded South East Port of Spain Secondary School and its deleterious effects on the students there (Express, March 8, 2020). A colleague accused me of sacrificing my "professional principles on the altar of dubious political ambitions" (Express, March 13, 2020).
In T&T we use pretty words but do little to achieve the necessary outcomes; or, as Bob Marley says, sometimes we are guilty of playing smart but not being clever. In analyzing the contrast between our words and actions on climate change, Vedavid Manick notes that it "is okay to speak about climate change, but it's more important to act upon it." He asks: "Are we doing enough to catalyze a change towards environmental stability both at a Government level and among the average citizens?" (Express, November 5).
Mottley's speech alerts us to the discrepancy between pretty speeches and the absence of action. But there was also a deep moral component to her speech which led the editor of Black Agenda Report to say: "When pretty speeches are a substitute for direct action, while justice is invoked without plans for reparation, we can be damned sure those existential, ecological threats will be realized in the Caribbean, and everywhere Black people live."
National solutions to global problems may be feasible. However, it is also true that if we, in T&T, treat our environment as a disposable and dispensable object then we will be setting up our own environmental destruction.
This, too, is part of our climate and environmental challenge. We should take it seriously.