By Raffique Shah
October 25, 2021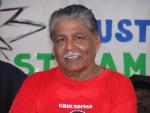 I don't know if it has yet dawned on Kamla Persad-Bissessar and her colleagues in the Opposition United National Congress that their ill-conceived motion in Parliament, which sought to trigger the impeachment of the President of the Republic, has backfired so badly that it seems set to terminate Persad-Bissessar's political career, and possibly eliminate the UNC as a political force in the country.

What a thing that will be: you seek to cut someone else's throat, but events take a radical turn and you end up committing political suicide.
Persad-Bissessar seems to have done everything wrong as she tries to win power a second time. Make no mistake about the motive that drove her to what, when analysts examine it in retrospect in a few years, maybe even months, they will see it as a grab for power.
The PNM in office and Keith Rowley as Prime Minister is a bitter pill for Persad-Bissessar to swallow. She doesn't merely think she is better prime ministerial material than he, but she chafes when she sees him survive the most calamitous events that would unseat other sturdier leaders.
The near-empty Treasury she left behind when she lost the 2015 election was a bad enough blow that he survived. But the economy had already turned South, as analysts had projected, and the Rowley government just kept going, barely staying alive.
When Covid-19 hit in early 2020, she and her associates thought, like the Madman in David Rudder's "Rant", "This is it! This is it!" In fact, Rowley himself must have thought the pandemic signalled his Government's imminent demise. However, he had no choice but to batten down and fight, if only to save face.
Persad-Bissessar resorted to sniper-style tactics as the global war against the Covid-19 virus raged. She would take cover in the party-bunker, come up for some oxygen and sunlight, fire off some shots at how there was no money now that commodity prices had all but crashed.
She would also slam Dr Rowley for not being capable of securing vaccines to fight the virus. When vaccines first sputtered in, she declared them useless, then she seemed to adopt an anti-vaccine stance although she ensured she was vaccinated… and so the saga continued.
Rowley not only survived the trying times, but to citizens' surprise, and more than likely his own, he appeared to thrive… or keep his Government fairly stable. Hell, the man had Finance Minister Colm Imbert prepare a budget for fiscal 2021-2022 that included the implementation of the controversial Property Tax. What the hell?
Then came like manna from Gary Griffith's big mouth (his description, not mine): something was amiss regarding the appointment of a Commissioner of Police, Gary's contract having expired some months ago. There were whispers that Rowley did not want Griffith (three years ago, he had all but gift-wrapped the Commissioner's uniforms for GG). The Police Service Commission fell apart, one by one. There were whispers about what role President Paula-Mae Weekes might have had in all of this mess.
Persad-Bissessar saw her opening to strike out boldly, which would not only unite her not-so-united Congress behind her solidly, but seize the time and make a bid for power by targeting any and every obstacle, from President to PM, Commissioner to Commission, toute bagai! Falling for social media old talk, mainstream media's unsubstantiated reports, talk about secret meetings and so on… go for the jugular, Kams, she told herself.
Throwing "himself told himself", like caution, to the wind, she trained her gun on the biggest target in town—Her Excellency Paula-Mae Weekes.
So after she made repeated calls for the PolSC, the PM and President to resign in disgrace, and with the scandal growing to multimedia proportions, it was she who could vault them all and go for the jugular.
"Impeach her," she shrieked. She hurriedly had one of her underlings prepare a one-page or three-page motion which she duly filed with the Clerk of the House. She was in the lead once more. Everyone else will have to follow. Based on what her macaws had whispered to her, she pictured herself dressed to impeach, sane and sober enough to deliver a Mark Anthony masterpiece. Kams is back.
Armed with her Motion and her minions primed and gassed in Parliament, she began her presentation. But Portia was in the chair clamping down on any breach she attempted to make, confining her to her script, not one word more.
Her underlings, as if inebriated, shouted at Portia, thumped desks, hurled insults, made threats, tried everything, to have their way. It was not to be. Portia kept her confined, constrained. Have your flesh, but not one drop of blood.
And so for yet another time, Persad-Bissessar suffered her 11th consecutive loss.