By Raffique Shah
August 08, 2021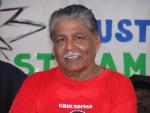 If you think you cannot possibly get any angrier over the state of sports in the country, what with the annihilation of Team TTO at the Tokyo Olympics, our cricket teams performing way below what is expected of them, and our once-proud football team booted out of World Cup 2026 by some miniscule islands, then read the local football legend's recently published Everald Gally Cummings, The Autobiography.

Gally will bring tears to your eyes, or maybe cause you to explode into fits of anger that might not be good for your health.
First, though, a word on our team's performances at the Olympics. We can blame the Covid-19 global pandemic for the poor performances by the relatively large contingent of TT athletes that braved the contagion and made it to Tokyo to represent their country.
During the build-up to the Olympics, most countries that had tried to ease restrictions on outdoor activities, had to revert to total lockdowns and curfews, to the closure of parks and stadia where competitive sportsmen and women usually train.
To the credit of those who fought to have the Games staged, and who went on to show the world they could do it with minimal disruptions, the Games came off, and overall, things went well.
Once swimming and track and field got underway, it was clear that many competitors had somehow attained peak form, every athlete's dream. The display of awesome form by track and field stars from Jamaica, The Bahamas, and farther afield, by swimmers from the USA and European countries that were ravaged by Covid-19 one year ago, as they broke record after record, raises questions that our officials and athletes will have difficulty explaining.
Something is very wrong with the state of TT athletics. It cannot be poor funding: ours is among a handful of countries that grant elite athletes in several disciplines funding up to TT $500,000 per year depending on their world ranking in their respective sport. The Ministry of Sport will have disbursed millions of dollars over the past five years directly to these elite athletes. How did they spend it?
Venezuela, where, if we believe the stories we hear, President Maduro's Government is starving its people, Yulimar Rojas won the women's triple jump with a world record-breaking performance. They had six medals by Saturday morning. Starving Cuba had 14, six of them gold; Jamaica nine, four gold; the Bahamas, two gold; hell, 86 countries on the medals' table, TT conspicuously missing.
I switch to Gally Cummings' tell-all autobiography, a book that I think should be recommended reading at the nation's secondary schools. Gally was born into football, his two older brothers club players, and several national players living within kicking distance of his parents' Melville Lane home, which, in turn, was virtually in the penalty zone of the Queen's Park Savannah, the Mecca of football back in the 1950s and 1960s.
He probably kicked his way into this world from his mother's womb. At primary school age he competed against and beat secondary school boys in athletics and football. By age 15, he was drafted to the national team. Clearly, he was destined to greatness in a sport that was not merely his life, but his passion. And therein lay the seeds of a conflict that would steer him onto a collision course with the overlords of the sporting world, more so the Mafia that was FIFA back then, maybe even today.
The book, which is on sale at several bookstores (RIK, Nigel R. Khan, Amazon) paints a path to glory that any young boy or girl might want to follow. But Gally also tears into corrupt administrators, ambitious and often ruthless politicians who would use, abuse and then spit out talented players, as long as it served their narrow personal interests.
He was a young player and witness to the machinations of the notorious dictator of Haiti, 'Baby Doc' Duvalier, who had clearly bribed FIFA officials to ensure that even though the very talented TT team scored five legitimate goals in a match that should have sent us to the World Cup finals in Germany in 1974, Haiti, not TT, made it, beating us 2-0.
Such open banditry would repeat itself in 1989 when our team was poised to kick its way into the 1990 finals in Italy—but had to get past the mighty USA. Certain local officials are said to have printed 40,000 surplus tickets to the game that was hosted in our national stadium. The chaos that ensued ensured that even if we had won the game (we lost, 1-0), our team would have been disqualified by FIFA.
In a stinging swipe, Gally wrote: The overselling of tickets…was one of the most cruel, criminal and treasonous acts ever committed in the history of our small nation…(P 269).