By Stephen Kangal, CARONI
July 19, 2021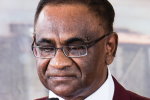 While hampers are in high demand and par for the course of alleviating abject poverty today, Tobago after twenty-five years of civilised persistence for attaining genuine self-government and functional autonomy (2018 Bill) is being presented with a misleading hamper of Bills even though Tobago is politically well-endowed.
Tobagonians must submit themselves to that pittance irrespective of the extent to which these Bills have deviated from responding to their hitherto well-articulated legitimate expectations.

The one factor that underpins and drives these two Bills and reinforced by the presentations by the Government members in the House, notably by the Hon AG Faris Al -Rawi is pure arrogant deception and total shameful misrepresentations geared to achieve scare-mongering among Tobagonians and lull them into a false sense of political/self-governance security.
This dangerous and deceptive potential loss of territory ("acreage") by T&T being peddled by the AG fast and furious is totally misleading, false, embarrassing and quite unbecoming of the Office that serves as legal adviser to GORTT. He has blemished T&T's diplomatic internationally acclaimed legacy on maritime affairs and caused to be inserted into the Hansard Records numerous falsities on the Law of the Sea Convention.
He has invoked this ruse for isolating and decimating Tobago as a virtual colony of Trinidad and not amending Section 1 of the Constitution.
Tobago is being regarded as if it is a land-locked entity with no adjoining marine areas. Legal deception is being used to deny Tobago of its entitlement to have some say on the exploitation of its maritime patrimony even though the new pre-ambular section of the Constitution is amended to recognize the right of Tobago to freely pursue its political and economic development in Tobago.
This is similar to the classic invocation by former President Robinson of "moral and spiritual values" to remove incumbent PM Panday in 2002.
As a practitioner of the Law of the Sea for forty years plus I have done my national duty to submit seven memoranda to the JSC on Tobago Self-Government making inter alia, the case for maritime justice to be done to Tobago's quest for participating in forging its own destiny. But I was not good enough to be selected/invited to testify before that JSC on very important legal issues of the sea because I was not purveying the propaganda that they JSC wanted to hear.
I can say that AG Al-Rawi used deception to attempt to fool the people of Tobago. He also quite intentionally and dishonestly misled and misinformed the Parliament and introduced patent Law of the Sea falsities into the Hansard Records.
I can say quite categorically from close and repeated content analyses of his lengthy June 28th Statement delivered in the House on the Self-Government Bill 2021 that not a single word that he uttered on the Law of the Sea as it applies to T&T is correct and can pass, survive or stand the test of knowledgeable scrutiny.
I have since submitted a Memo to this effect to the JSC on Tobago Self Government- such is the level of confidence in my summation.