By Raffique Shah
March 22, 2021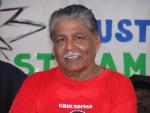 It took a global pandemic that has, in one short year, claimed 2.7 million lives, infected 123 million people in 221 countries, to expose man for what he really is—a beast in human form.
For all his posturing on being civilised, on cooperation in the battle against the Covid-19 virus through agencies such as the World Health Organisation and the United Nations, when several vaccines were finally developed, tried and approved, the wealthiest, most powerful nations simply trampled on the poor, grabbed all they could without shame, pity or any kind of emotion that is supposed to distinguish man from beast.

A recent Al Jazeera report quoted data from an anti-poverty group ONE that said it is likely that no one from poorer countries will be vaccinated this year. UN Secretary-General Antonio Guterres said last Wednesday that 10 countries had administered 75 percent of all vaccinations thus far, calling it 'wildly uneven and unfair'. France's Emmanuel Macron and Germany's Angela Merkel indicated they will share part of their vaccine stockpiles with poorer countries, and Britain's Boris Johnson said he was prepared to 'give away hundreds of millions of spare vaccine doses' to the developing world—once all adults in the UK have been inoculated.
The USA, under new President Joseph Biden, has been administering an average of two million doses per day in March: if we in TT did that, it would mean the entire adult population vaccinated in one day. In fact, the Covid-19 team that is led by Dr Roshan Parasram, has a plan in place that will see a smooth inoculation programme, once the vaccines arrive here. Dr Parasram and Health Minister Terrence Deyalsingh have assured the nation that the locations at which the vaccines will be available to the wider population have already been identified and are fully prepared. Among the installations is a new one-million-doses refrigerated facility at the Couva hospital.
The missing element in the preparatory equation is, of course, the vaccines. It is not as if the Government did not fulfill its obligation to the populace in that regard. From way back when, they have spoken of having paid up and entered the WHO-PAHO-COVAX arrangement that was set up by the regional and international agencies to cater for poorer and smaller countries that could be trampled when the rush for vaccinations began. They were guaranteed their initial allocations, according to what they told us. That was, I believe, 20 per cent of our overall needs, which should be just over 200,000 doses. I may have the actual numbers wrong.
In the meantime, as the vaccines were developed and put through trials to meet globally-accepted standards, all of Caricom, and, I imagine, other Caribbean and Latin American countries, kept the faith and closely monitored progress from the manufacturers. There was nothing more they could do, except keep the pandemic under control in their respective countries.
By the time Pfizer and AstraZeneca got their approvals in December/January, there was little cause for concern among the poor, small nations across the world. Or so we thought. After all, this was a global pandemic, and except for variations in the extent to which the mal-effects of the virus struck us, we expected an orderly system of production and distribution of the vaccines.
That, apparently, was not what was happening on the ground. The 'civilised' wealthy countries in both North and South that were also powerful, shoved aside the weak and the meek, grabbed everything they could, much the way looters do during riots and disasters, made off with the loot, and left countries like ours breathing the foul air they had left in their wake.
Great expectations were shattered. Inequity, which I have repeatedly written about in this space, and which is currently engaging the attention of most nation-states as they seek to rewrite the Social Contract, has imprinted its ugly face at a time when humanity faces crises that will test our humaneness to its full extent.
Man can easily turn into beast over this travesty that is global in reach. Because among the victims are huge, populous nations spread across the world that may not have the financial or military prowess to demand justice, but can otherwise return the 'favour'.
China has a vaccine that it has successfully sold to a number of countries—Singapore, Malaysia, Indonesia, the Philippines, the UAE, Brazil and Chile. Cuba, which has a good reputation in medicine, is about to roll out its contribution. Also, Uncle Vlad in Moscow has his vaccine.
Hey, if WHO and PAHO, two supposedly respected world agencies, cannot fulfil their commitments to countries like ours, why should we remain anchored in such alliances, or in the OAS? Of what use are they? Covid may cause us to re-examine all our existing regional and global alliances.