By Raffique Shah
March 15, 2021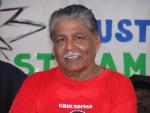 Last Sunday, I marked my 75th year on this earth. It was a milestone of sorts, but no great achievement at a time when many people go way past that number, and remain very healthy and fit into their 80s, all praise to them.
My birthday was marred by the mal-effects of crippling, Parkinson's Disease that I've had to cope with since I was 66. Worse than that, the day before, my extended family was struck numb by news that one of my nephews, Qadir, had drowned off Paria bay, and his body had not been recovered. Sadness overwhelmed us, as it always does when someone as young as he was, thirty, and full of life, had met such an abrupt end to what was a promising life.

So Sunday morning was spent in agony, which I imagine everyone who knew Qadir will have endured.
Oh, I had one phone call that I note here: Retired Colonel Faby Liverpool, who was a member of the Guyana Defence Force and trained at Sandhurst when I did, made his ritual birthday call around mid-morning. We exchanged pleasantries, but I told him nothing about the tragedy that had struck my family, for which he might cuss me when he reads this week's column.
Anyway, everything else screeched to an abrupt halt in the family as we focused on searching for the missing Qadir. We needed to have professionals in maritime matters, which meant the Coast Guard. We would necessarily want the police to be fully informed and maybe involved as the search got underway. We made contact with National Security Minister Stuart Young, and he promptly set up lines of communication that involved the CG, a police search and rescue unit, and the police station in Blanchisseuse.
Scores of hikers, some of them from the group that Qadir was in when the mishap occurred, hunters who had rendered similar service when Andrea Bharatt had vanished a few weeks earlier, Muslim groups, volunteers who owned drones and boats, joined in the search. For six long days and very short nights, my neice-in-law Amirah and other relatives served as the control centre for a massive operation.
The waters off the coastline in that part of Trinidad are usually very turbulent. Factor in bad weather—on Sunday and Monday, visibility was poor…picture that—and a logistics line that extended from Freeport to Blanchisseuse, boats and crews from Chaguaramas to the village, drones aplenty, and you get an idea of what our people are capable of rallying, coordinating and executing at short notice.
They refused to give up, even when conditions were so treacherous, their lives were in danger. In fact, more people volunteered their resources and services. The Qadir factor entered the equation. You see this boy, and I mean no disrespect to his manhood by calling him boy, had touched so many people in his thirty short years on earth, it was incredible.
He had played cricket and football for Presentation College, Chaguanas, like his older brother, Fayaz, had done before him. He would later return as fitness coach to the football team. He schooled himself in fitness and sports, and he earned a degree in Sports Management at The UTT. Described as one of the gentlest fitness trainers, many people I know sang praises to him for the way he trained them and/or their children. I described him as a most pleasant person among my many nephews, nieces and cousins.
The volunteers, working with the Coast Guard and Police, finally recovered Qadir's body late Thursday and his funeral which attracted Covid breaking numbers, who to their credit had observed as far as possible public health regulations, comprised a cross section of races, classes and religions. He himself was a devout Muslim.
His father, my brother Farouk, told me that a woman and two children turned up at his home while the search was ongoing. The children passed on to Farouk a sum of money 'to help find Coach Qadir'.
He had touched many lives. But he remained untouched by negative influences such as race, colour and class. Earlier, I mentioned that my friend Faby from Guyana called to extend best wishes. He is Afro-Guyanese and we met in 1965 when Guyana was torn apart by a race war. Race never arose between Faby and me. Through the years I've known him we kept a brotherhood going just as I have done with friends of many races worldwide.
Race is what has rendered T&T a divided society. The absence of race as a factor in my family gives us the moral authority to call for an end to tribalism, to ask our people to end this politically generated nonsense for once and for all time.
Do it, people, if only in the name of Qadir Shah.