Newsday Editorial
March 05, 2021 – newsday.co.tt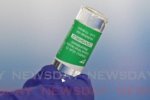 IN ALL the recent instances of wrangling over vaccines from India, a key issue has been left unaddressed.
The heated reactions to both Health Minister Terrence Deyalsingh's mischaracterisation of the custody chain of vaccines donated by Barbados and Opposition Leader Kamla Persad-Bissessar's letter to the Indian Prime Minister have deflected attention from a more profound diplomatic quandary which this country faces – as well as Caricom as a whole.

Last month, Mr Deyalsingh apologised after wrongly stating 2,000 jabs donated by Barbados had come from India. Those vaccines were, in fact, a gift from Barbados. India had donated 100,000 vaccines to Barbados, and out of these, Barbados donated 2,000 to this country.
Full Article : newsday.co.tt
Statement of the High Commission of India in Port of Spain on "A Passage to India" Editorial of T&T Newsday of 5 March, 2021.
https://www.facebook.com/IndiaInTnT/posts/3460097427433661