By Raffique Shah
february 22, 2021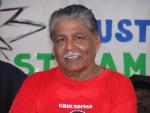 "There's an old lady here…she says she wants to register to run the marathon…I don't know what to do…can you come and sort this out?"
It was sometime in March 1984, and we were organising the second Mirror Marathon later (The Trinidad and Tobago International Marathon). We had successfully staged the inaugural race in April 1983, and were excited about the second edition. The response from would-be marathoners was enthusiastic. We expected to have more than 500 entrants, up from the 300 who had run last year's race.

We had established rules for entering and participating in the event, most of which I had copied from the big marathons in London and New York. Still, my organising committee colleagues and I were learning as we went along. We had recognised what was universally called the Masters' Division, for runners over 40 years. But we had not envisaged a problem with an upper limit. After all, old people do not run.
As I approached the small woman standing before me, I first noticed a shock of white hair, long and plaited, I believe, framing her face. She was grey, hence, to us, being below 40, she was old. Surely she cannot be contemplating running 26.2 miles, I thought…until she answered my questions.
Her face lit by a warm smile, she told me she had "trained for this race since last year". I asked what kind of training she had done. "I live at San Juan," she said. "At least once a week, I run to the Maracas "Saddle" and back. Most days I run about six miles…Mr Shah," she added, with an almost mischievous smile, "you can come with your car now and see me run…I just ran from my home to this office (Barataria) to register, and I will run back when I'm finished."
I was impressed, not merely with her determination, but with her warmth, her humility, which did not detract from her confidence. After establishing that she was 56 years old, I asked her to get a doctor to certify that she had no medical problems that would endanger her life by running the marathon. When I ushered her out of the building giving the staff instructions on what to do when she returned, someone among them muttered: "But Granny good wid sheself, yes!" Thus we christened Lynette "Granny" Luces—long before she was a grandmother.
What we also did not know was that while we fussed over the elite runners, the stars we hoped we could attract to make the race exciting, this little old lady would become an iconic image of the TTIM, and, indeed, of road running and racing here in T&T and up the Caribbean where our marathon had spawned the distance running boom.
She turned up at my home turf, St Mary's Junction, Freeport, for the 5.30 a.m. start, which had exceeded 500 entrants, and took off with the mass of runners on that long, winding, almost tortuous road to Whitehall in Port of Spain. She would be lost in the excitement along the course and at the already fair-size crowd at the finish line when the unknown Coswell De Peiza, a Trini who lived in the US, sprinted to the front as if it was a one-mile affair, and held the lead all the way to the finish to win in a comfortable 2:30:36.
Six hours after the gun had been fired, I was about to wrap up things from there at the Savannah when Harold Ramoutar, a colleague and reporter at the Mirror, informed me that 'the old lady' who had registered was a short distance from the finish. I advised the crowd accordingly, and waited.
When she jogged past QRC and aimed for the finish line, the crowd took notice. "Granny Luces is approaching the finish line," I advised through the microphone. Within seconds, the crowd closed in, chanting, applauding, encouraging Granny. When she crossed the line, people hoisted her onto the tray of a pick-up and hailed heroine Granny Luces. An icon was born.
Harold and I devised a training programme for Granny that saw her clock a time of 4:29:35 in 1985 placing 507th of 727 finishers. In 1988 at age 60 she clocked her best ever 4:25:54, she later ran a respectable 5:17:28 at age 70. She had by then stamped her name on just about every road race in Trinidad. Her arrival at the finish line of almost every race she ran signalled its closure. She insisted on running the marathon in 2003 at age 75. She clocked 6:01:07. We kept the race open until she brought its closure.
Lynette Luces inspired thousands of people to do distance running for health and fitness. Her success never affected her humility and her warmth. She was by far one of the nicest human beings you would ever know.
Thanks for a great long run, Granny.