By Raffique Shah
September 29, 2020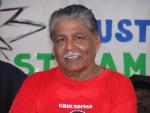 When I look back at it, my life that is, the many sharp, unpredictable turns I made that often intersected with the history of my country, I cannot help but feel fated to its destiny, inextricably linked to its history.
I ruminated on these occurrences over the past few days as the nation marked Republic Day, the 44th edition of what was a giant constitutional leap back in 1976. Interestingly, then, as this year, it was marked without the pomp and ceremony usually associated with such events. As I recall it, there was the swearing in of newly-elected members of the House of Representatives as well as senators, and maybe an address by Sir Ellis Clarke (I cannot remember), the first President of the Republic.

I happened to be an elected member of the First Republican Parliament, something I've never valued as an achievement, which is a hell of a thing to admit, coming from one who wears my patriotism on my sleeves. The story of how I got there is very unusual, which is why I cited fate as having a prime impact on my life.
Months after I won my appeal against the Court Martial verdict and sentence in early 1972 (guilty of mutiny, for those who do not know, and 20 years imprisonment in my case), I came out of prison with no clear objective in mind. Towards the end of 1972, a small group of sugar cane farmers journeyed to my home to try to persuade me to join a trade union they had formed back in 1970, but which was never activated. They wanted me to lead them out of bondage—an Act of Parliament (1 of 1965) that compelled them to be members of an association (TICFA) and pay dues to that organisation.
Long story short, I accepted the challenge, and with experienced trade unionist Winston Leonard (Josanne's dad) guiding me, we worked up a storm in the sugar belt in short order, attracting hundreds, soon thousands of farmers, and other residents in rural communities stretching from Caroni/Orange Grove in the north to Penal/Barrackpore in the south.
I was so naive, I paid no attention to the thousands of sugar workers who, having rid themselves of the tyrant Bhadase Maraj when he died in 1971, were also clamouring for leadership. Dr Eric Williams saw me as a threat to stability in the politics of the sugar belt, so he facilitated the entry into the sugar workers' union (ATSE&FWTU) as president, one Basdeo Panday. That happened about six months after Leonard and I had taken up the struggle.
We never intended to mobilise the workers, so we welcomed Panday's entry. We took the initiative to have him join with us (that was in early 1974) as we pursued strike action by the cane farmers, with his workers on a week-in week-out semi-strike. Panday would soon settle with the Government and Caroni, and end his strike while the farmers tried to force the Government's hand to recognise our union (ICFTU) as their representative, and pay them more for their canes delivered to the factories. Our cry was for "one cent per pound" ($22.40 per ton).
Out of this turmoil, Panday, who was hell-bent on getting into politics, persuaded me (Leonard stayed clear of him), George Weekes and Joe Young to forge a united labour front (not a party, initially, but a joint trade union platform). Before the tumultuous events of 1975 were over (Bloody Tuesday, March 18, protest demonstration which the police bludgeoned protestors, seriously injuring John Humphrey, Leonard, and many more), a political party was underway, and I, like hundreds of other young revolutionaries coming out of the 1970 experience, worked day-and-night, for many months, to prepare the ULF, now a party, for entry into electoral politics in the 1976 general election. I had chosen to do battle in Siparia, where the two leaders of the fractured opposition DLP, Vernon Jamadar and Alloy Lequay, contested. Also running there was Dr Martin Sampath of the DAC, and the PNM's Rennie Matthews. My mission was to wrest that seat for my party. I won, polling the third highest votes in any constituency.
The newly-formed ULF won 10 of 36 seats, forming the official opposition.
That was how I found myself entering an arena I had no intention of doing in my earlier life. I had never even thought about it. But there I was on Republic Day, 1976, at the forefront of an army of young dreamers who had laboured tirelessly to build a new political party, with the emphasis on "new". It was meant to rise like the mythical phoenix from the rubble of the revolution of 1970, a party untainted by race or colour or class, owned by the workers, farmers and others who toiled to build party and country, but who had never owned anything.
Fate had seduced me into an arena where I was a stranger, innocent of the machinations of seasoned practitioners of raw politics, a cockpit where you did unto others before they did unto you. In short order, Panday tore the ULF apart and cunningly made me the fall guy. I would turn my back on such politics, walk out and never look back.
No regrets. Never had any.