Monday June 20, 2011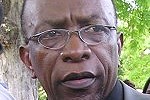 Jack Warner, the controversial Fifa vice-president recently investigated over alleged corruption, has stepped down from his position at the footballing governing body.
The 68-year-old, from Trinidad and Tobago, had been a member of the Fifa Executive Committee since 1983, and was suspended last month after he was accused of corruption.

Fifa accepted Mr Warner's resignation – and the Ethics Committee investigation into bribery claims against him have now been dropped.
Mr Warner, who has also quit as head of regional bodies CONCACAF and Caribbean Football Union (CFC) and had been the longest-serving member of FIFA's executive committee, was suspended along with Asian football chief Mohamed bin Hammam.
There were suspicions that the pair had been involved in bribery during the presidential election, which Sepp Blatter, unopposed, won.
June 21, 2011
Jack Warner resigns as FIFA VP
Jack Quits FIFA
A CASE of bribery against Works and Transport Minister Jack Warner will not be pursued in light of his resignation from world football governing body FIFA. His resignation, announced yesterday, left questions over what happened at the Hyatt Regency Hotel in May at a meeting of the Caribbean Football Union (CFU) lingering.
Jack Shocker
In a move that startled the country almost as much as his suspension from FIFA, Works Minister Jack Warner announced yesterday that he has resigned as vice-president from the world's governing football body as well as CONCACAF and the Caribbean Football Union.
I've been hung out to dry
After ending his near 30-year association with football's governing body, FIFA, and before the conclusion of an inquiry into bribery allegations against him, Minister of Works and Transport Jack Warner has declared: "I've been hung out to dry."
Jack's statement to FIFA
By letter, dated June 17, 2011, and effective on that date—as confirmed by the world football governing body–I resigned the positions I had long held as FIFA vice president, president of Concacaf and president of the Caribbean Football Union. This decision is by my own volition and self-determination; albeit it comes during the sequel to the contentious Mohammed bin Hammam meeting in Port-of- Spain in May with CFU Delegates.
Transparency Institute not satisfied with FIFA approach
TTTI: Open independent probe to clear Warner's name
Resignation a year too late
As news of the resignation of Works and Transport Minister Jack Warner from FIFA flooded the Internet local politicians have thrown their support behind Warner's decision.
Rowley: Gibbs must probe if Jack broke laws
Sad day for Caribbean football, says Camps
PNM: Jack's sights set on local football
CoP still waiting on FIFA for info
Warner: My new role is problems of T&T
UNC backs its chairman
THE UNITED National Congress yesterday gave its full backing to its chairman Jack Warner in the wake of his announced resignation from FIFA and several other football bodies.
A shadow still hangs over Mr Warner
The resignation of Jack Warner as a FIFA vice-president is very convenient for both FIFA and Mr Warner himself. With the ethics investigation into allegations of bribery by Mr Warner closed as a result
Football's loss may be T&T's gain
The decision by Works and Transport Minister Jack Warner to resign as a vice president of FIFA, as the president of CONCACAF and as the president of the Caribbean Football Union would not have come as a surprise to anyone who has been following his announcements since his provisional suspension by the world football body
Business as usual for Jack
IT WAS BUSINESS as usual for Works and Transport Minister Jack Warner yesterday as he toured a site damaged by heavy rainfall, hours after word of his FIFA resignation broke.
FIFA release Jack Warner Q&A
FIFA have released the following Q&A detailing some key issues surrounding vice president Jack Warner's resignation.