By Raffique Shah
June 18, 2011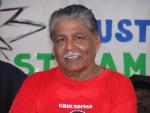 I WAS seething with anger last week Tuesday—and I was not even among the tens of thousands of commuters trapped in horrendous traffic jams that paralysed around 25 per cent of Trinidad. One fuel tank wagon overturns close to the Gasparillo/ Petrotrin flyover on the Hochoy Highway and commuters from as far north as the CR Highway intersection, through all of central-south Trinidad, steam in their stalled or slow-moving vehicles for up to seven hours. And we lay claim to being on the brink of developed country status?

Give me a break! I was not in the traffic, but I first observed its deleterious effects when I took my ritual late-afternoon walk. The street on which I exercise runs off the Cedar Hill Road, Claxton Bay, not far from the Southern Main Road (SMR) Junction. When I got to the intersection, I saw the west-bound lane jammed with vehicles. They hardly moved. I had heard of the noon accident on the news, which also spoke of heavy traffic on the Hochoy and Butler highways, and advised motorists to use alternative routes.
But I never imagined that at 5 p.m. people would be still stewing every-which-by-way, not to add being at a standstill on the highways. As I walked, I peered in both directions, looking for police officers. Not a uniform in sight. I hear sirens, presumably from ambulances trying to force they way through the logjams, to take patients for medical attention. Earlier, I had received phone calls from friends and relatives who were stuck in the mess and asking about alternative routes. I offered what advice I could, but it hardly helped.
Later, on television news, when I saw images of Disaster Day, I was livid.
Traffic was at a standstill, or barely moving, from as far north as the CR intersection. Trinidad had suffered a major stroke: its main artery was severed. From other reports, all ancillary roads, including the alternative SMR, were similarly stricken.
Some wise fools (an oxymoron, I know!) decided to abruptly stop traffic in both directions as close as 150 metres to the overturned tank wagon. Had that tanker exploded, scores or people closest to it would have been blown to shreds or burnt to death. I am sure, too, infirm persons trapped in the jam must have suffered, maybe even died later, as a consequence of the torture they had undergone.
Instead of a disaster plan, what the authorities inflicted on us was an unplanned disaster.
What irks me most is that there were options available to mitigate the mess. In a situation like that, given where the accident happened, the Gasparillo and San Fernando police, as well as officers from nearby Petrotrin's security, should have been first on the scene. Fire officials from Petrotrin and San Fernando would be next: they focus on averting an explosion, which, in this instance, they did.
Recognising the magnitude of the challenge, the senior police officer in the accident zone alerts the Police Commissioner who directs a senior officer to quickly evaluate the problem using a helicopter from the Air Guard of the Defence Force. While aboard, he notes the extent of the highway jam, and orders divisional chiefs to mobilise manpower to divert traffic from the highways onto alternative roads.
He sees the feeder roads, as well as the SMR, similarly clogged. Clearly, there is need for maximum police personnel to keep traffic moving along these roads. The two new Augusta Westland helicopters move into action, collecting police officers and maybe soldiers in Port of Spain or Chaguaramas or San Fernando. The helicopters make several trips, and within two hours, officers are strategically deployed at key points on the highways, the feeder roads and most of all on the SMR.
The helicopters use playfields nearest the "trouble spots" (mainly junctions) to drop off officers. They run to their nearby posts and immediately regulate traffic. This task is no high science—I have seen civilians do it at accident spots. On the SMR, a major challenge is maxi-taxis that insist on stopping in the middle of the road to drop off or pick up passengers. If they insist on being boorish in the midst of a crisis, park them aside for the day!
Traffic wardens should litter districts like Marabella, the San Fernando By-Pass, and similar alternative routes, again, keeping traffic moving. No parking is allowed on any of these clogged roads. So on the ground you have a few hundred officers dealing with a crisis situation, and in the air, helicopters patrol the clogged arteries hailing offenders (parked vehicles, for example), ordering them to get moving or get off the roads.
Assuming such mobilisation got underway one hour after the mishap (1 p.m.), by 3 p.m. the sections of the highway closest (Claxton Bay to Tarouba) would have been clear of all vehicles, even if that meant having them drive in the wrong direction, to get them out of harm's way. With adequate officers policing the "escape" routes, traffic will have flowed, albeit at a slow pace. But such plan will have allowed for the disabled tanker to be made safe and removed from the highway by 3 p.m., restoring the free flow of traffic.
There is much more I can write about handling such crises with military precision. However, if the best solution Minister Jack Warner can come up with is a ban on heavy trucks from the nation's roadways during daytime, what can a sober citizen say? Go, Boyo, go!!