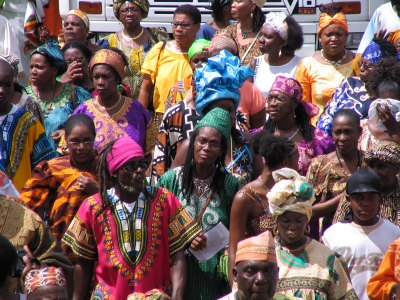 TriniView.com
This year, for the first time, there will be a major Emancipation festival in South Trinidad. The Southern Emancipation Committee, a newly formed organisation will be hosting the festival which runs from Friday 28th July until Tuesday 1st August 2006 on the Harris Promenade, south Trinidad. The theme of this inaugural event is Building Bridges to Unite African People.

According to the SEC, there has been a gap in cultural events in bringing awareness to people the greatness of the African past and how this can assist with societal problems encountered today. They propose that a true civilization does not rest on how much technology or grand buildings a nation has, but the quality of life that minimizes deviancy and crime, poverty, physical and mental illnesses, disoriented families, and the many horrors that people face.
According to the SEC, sometimes Emancipation Celebrations can be looked upon as being a cultural extravagance; people tend to look at culture as being something of show; a song and dance. The SEC recognizes that culture is what shapes and moulds an individual and society. Sociologically, along with song and dance, the project intends to increase the public's awareness and conscientiousness with regards to health, economics, history, philosophy, family, science and spirituality. Issues affecting males, females and young people will be looked at over the five festival.
The market's intention is to focus on information; therefore multimedia booths will be set up in the Market Village to showcase African-centered audio-visual material in the form of dvds, cds, books, pamphlets, short stories, posters, etc. for display and sale. The Harris Promenade already is the host of a statue in tribute to the honourable Marcus Garvey. Mr. Garvey is one of the greatest pioneers in the Pan African movement and it would be a fitting opportunity to render respect on this occasion. A booth would be set up around the statue that would highlight details of Mr. Garvey's life and legacy. Multimedia, as mentioned prior, would be a feature in this booth, along with posters, T-shirts, and totems of this Caribbean hero.
There will also be educational booths by Afrikan World Books, Ausar Auset Society, Ethiopian Orthodox Church, and Egbe Ilo Siwaju Ile Alkebulan, clothing by Nubia Designs, Nzinga Clothing, and Trisha's, and Craftwork by Mafunzo, Artistics Image and Data Centre, and Jericho. Ur-Aua Khem Men Sih, Erin Fulami, David Muhammed among others are scheduled to deliver feature lectures.
The festival will also feature performances by the Ella Andel, Composer, Brother Valentino, Ras Commander, Abby Blackman, Collis Duranty, Mr. Shaq, Shanaqua, rapso group Word, Sound and Power, King Shorn,, Ivory, Skiffle Bunch Steel Orchestra, and the Ujamaa Ambatana dance company. Drumology will be provided by Neptune School of Drums, Fyzabad Drummers, and Best Village drummers.
SEC Emancipation Schedule
Day 1 Fri 28th July
2:00 pm to 11:00 p.m.
• Formal Opening of Market Village
• Fashion Show
• Flambeau Procession fro OWTU to Harris via Coffee Street with Tamboo Bamboo, Drummers and Moko Jumbies.
• San City Steel Orchestra
Day 2 Sat 29th July 2:00 to 11:00 p.m.
• Market Village
• Performances by Highlanders Steel Orchestra, Collis Duranty, Mr. Shaq, Ivory, rapso group Word, Sound and Power, Afiya, King Shorn
Day 3 Sun 30th July 10:00 a.m to 11:00 p.m.
• Market Village
• Performances
• Fashion show (3 pm)
• Men's Forum Workshop
• Feature Address by David Muhammed at the City Hall Auditorium. San Fernando
• Performances by Ella Andel and Temba Gwindi
Day 4 Mon 31st July 10:00 a.m. to 11:00 p.m.
• Market Village
• Women's Forum
• Youth Panel Discussion (4pm)
• Capoeira (6 pm)
• Performances by Bro Valentino and Composer
Day 5 Tue 1st Aug 7:00 to 10:00 p.m.
Shashamane Cultural Ensemble
Emancipation Parade / Procession from Marabella roundabout to Harris promenade 7 am via Vistabella
• Market Village
• Performances- Ujamaa Ambatana
• Awards Function (7pm)
• Cultural performances- Brian London, Ras Kommanda, Lady Adanna