Blatter cleared, Bin Hammam and Warner suspended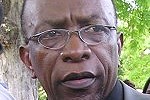 FIFA has suspended executive committee members Mohamed bin Hammam and Jack Warner after investigating accusations they bribed voters in the presidential election campaign. FIFA cleared its president Sepp Blatter of ignoring the alleged bribes.
Full Article : forbes.com
Jack in bribe probe, Blatter too
FIFA summons its vice-president to Zurich following allegations

By Ian Prescott
May 25, 2011 – trinidadexpress.com
FIFA, the world governing body for football, has summoned Works and Transport Minister Jack Warner to Zurich, Switzerland, this weekend as it investigates allegations of bribery involving Warner and FIFA presidential candidate Mohamed bin Hammam.
Warner, a FIFA vice-president who has long been considered a power broker in the football organisation because he controls 40 Concacaf votes which are key to any FIFA presidential candidate's success, is accused, along with bin Hammam, of allegedly offering bribes to members of the Caribbean Football Union (CFU) for votes in the upcoming June 1 FIFA presidential elections.
Warner, 68, has been called to Zurich to answer bribery allegations before a FIFA Ethics Committee on Sunday.
Full Article : trinidadexpress.com
***
Jack: I did no wrong
WORKS and Transport Minister Jack Warner yesterday faced new allegations of bribery stemming from his duties as head of CONCACAF in relation to the lobby for support by FIFA presidential candidate Mohamed Bin Hammam.
'I am not aware of any wrongdoing on my part'
Mohamed bin Hammam wants Fifa to investigate Sepp Blatter, too
Mohamed Bin Hammam, the Fifa presidential challenger accused of giving cash bribes to voters, has accused his opponent Sepp Blatter of effectively approving the alleged payments and called for him to be investigated as well.
May 27, 2011
Fifa opens ethics proceedings against Sepp Blatter
The Fifa president, Sepp Blatter, has been summoned to appear on Sunday before the organisation's ethics committee alongside two of his most senior executive committee members as world football's governing body threatens to implode ahead of next week's presidential election.
Sepp To Appear Before Fifa
SEPP Blatter will appear before FIFA's ethics committee on Sunday to answer charges that he knew about alleged cash payments, the world governing body announced today.
Fifa president Sepp Blatter to face ethics committee
The Fifa ethics committee has opened an investigation into its president Sepp Blatter after Mohamed bin Hammam requested ethics proceedings were opened against the Swiss head of world football.
***
BBC alleges new evidence against Jack
New evidence obtained by the British Broadcasting Corporation (BBC) appears to back up claims by former FA chairman Lord Triesman of wrongdoing by FIFA vice-president Jack Warner.
Warner may face another FIFA charge
Two other Trinis charged with Warner
THE two other people named to face a FIFA tribunal in Zurich, Switzerland on Sunday are both from Trinidad and Tobago and work for Caribbean Football Union (CFU) president and FIFA vice-president Jack Warner.
Rowley on FIFA allegations: I feel embarrassed
Opposition Leader, Keith Rowley, said yesterday he feels no sense of vindication at the allegations that have been made against Works and Transport Minister Jack Warner by an executive member of the world football body
Time for minister to choose—Imbert
The time has come for Works Minister Jack Warner to decide between his Fifa position and his Cabinet job, PNM's Colm Imbert said yesterday.
Bas: Jack can't serve two masters
Warner's greatest challenge?
The allegation against Jack Warner of attempting to illegally persuade an unstated number of his colleagues in Concacaf to vote for the candidacy of Mohammed bin Hammam in next week's presidential election of FIFA could be the greatest challenge yet for the FIFA vice president.
Mayor: Warner gets the job done
Works and Transport Minister Jack Warner received praises from Port-of-Spain mayor Louis Lee Sing for getting the job done.