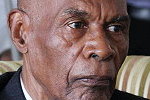 THE EDITOR: The Chairman of the Integrity Commission Eric St Cyr has been quoted as saying that the controversy surrounding the award of the $40 million contract to Gopaul and Company Ltd could have been avoided if the Prime Minister had stayed at a hotel.
The alacrity in which the Commission's Chairman responded is similar to the pace of response when the Opposition questioned the appointment of Jack Warner as a Minister whilst at the same time holding an Executive FIFA office.

This response time is a new phenomenon with the Integrity Commission as during the PNM Administration the Commission Chairman was reticent and slow to indicate a public position. What has changed?
To the reasonable minded only the Government has changed. This gives rise to the growing perception that the Integrity Commissioners are sympathetic to the Opposition PNM.
Issues of the Guanpo Church and the awarding of Scholarships are still before the commission but clearly these are not priority and do not bear similar importance to what is now surfacing with the People's Partnership.
It is unfortunate to say the least when the Commissioner of such a body can come out and make such a nonsensical, obtuse and imbecilic statement on the matter.
If Mrs. Persad Bissessar had stayed at a hotel as suggested would they have been silent on the fact that tax payers money was being spent? Anyone who is cognizant of the politics of Trinidad and Tobago would agree that this would have never been allowed to slide.
As a young person concerned about the state of politics in this country I am calling on the President to remove the incumbent members of the Integrity Commission and install a new board that will deal with all matter expeditiously, fairly and wise.
Kristal Ramroopsingh
Fyzabad