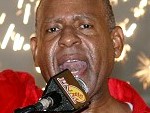 SUSPENDED
Manning sanctioned for being in contempt of Parliament
"Mr Patrick Augustus Mervyn Manning is accordingly suspended from the service of this House with immediate effect," declared House Speaker Wade Mark last night.
Mark did not state for what period of time but a suspension cannot cross a session of Parliament, which is the maximum threshold for a suspension. This session ends on June 18.

HOPSCOTCH MANNING
SAN FERNANDO East MP Patrick Manning, a former PNM prime minister, has been suspended from the House of Representatives with immediate effect for an unspecified period after 25 Government members approved a report by the Privileges Committee which found Manning guilty of contempt of Parliament.
Absent Manning suspended
Parliament's Privileges Committee is moving next to complete matters concerning People's Partnership (PP) MP Anil Roberts and Opposition Leader Keith Rowley before the end of the session next month, according to PP House leader Roodal Moonilal.
Govt moves amendment to suspend Manning
Government, through the Member for Toco/ Sangre Grande and Minister of Tourism Dr Rupert Griffith yesterday moved an amendment to a motion to have Member of Parliament for San Fernando East Patrick Manning suspended for being in contempt of Parliament.
Roodal: Ex-PM wanted to dictate the pace
Former prime minister Patrick Manning clearly felt that he was entitled to "call the shots and direct the pace and work of the Privileges Committee", Leader of Government Business Dr Roodal Moonilal said yesterday.
Constituents upset
The move to suspend former prime minister Patrick Manning is undemocratic and a sad day for the democratic process, says Tina Gronlund-Nunez, chairperson of the San Fernando East constituency.
Imbert: It's a dictatorship
GOVERNMENT has converted Parliament's disciplinary committee into a virtual kangaroo court, Diego Martin North/East MP Colm Imbert argued yesterday as he said Government was rushing to suspend San Fernando East MP Patrick Manning as part of a dictatorial plan to decimate the Opposition in a move he termed an "ambush."
Imbert; Govt acted like kangaroo court
'Show mercy'
THE PROCEDURES of Parliament were undermined by Government's rush to have a report of the Parliament's disciplinary committee debated yesterday, Opposition Leader Dr Keith Rowley claimed as he urged Government to temper vengeance with mercy as the House met to debate a contempt motion brought against San Fernando East MP Patrick Manning and what punishment should be meted out.
Smoking bulb holds up House for 24 minutes
Yesterday's special siting of the House of Representatives was suspended for 24 minutes during the pre-tea session because smoke was seen coming from a light bulb in the chamber.
The Manning saga
It is a depressing commentary on the conduct of Trinidad and Tobago's Parliamentary democracy that a veteran honourable member should find himself in the position of a renegade from its jurisdiction. Patrick Manning, former Prime Minister and MP for San Fernando East, has emerged in an anti-heroic role in a dodgy drama of manoeuvrings and dissemblings, transparently carried out to escape facing Parliamentary due process. Mr Manning succeeded in depriving the Privileges Committee of his defence to the charge that his November 19 statement had "grossly and recklessly abused the privilege of freedom of speech in the House".