By Akile Simon
April 30, 2011 – trinidadexpress.com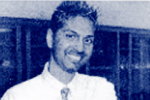 PUPILS at an all-girls prestige high school busted a biology teacher who took up duties last week, revealing that he was convicted in the United States a few years ago, on charges of sexually assaulting five of his female pupils.

The sex offender managed to slip through the cracks and landed himself a temporary job at the prestige school after a female biology teacher went on maternity leave.
He was hired for a three-month period after he was interviewed and the school's management was very impressed with his credentials.
The school teacher, who is 32, but was 25 when the offences were committed, according to the New York Times, was convicted and sent to jail for four years after he pleaded guilty on charges of sexually assaulting five pupils of the Cathedral High School, Manhattan, between 2005 and 2007.
The teacher, who was deported back to Trinidad after serving his sentence in a Manhattan jail, was busted by a Form One pupil at the prestige school who decided to Google his name through the internet. To her amazement, several stories, including images of her school teacher, popped-up, indicating that he was convicted of crimes against female pupils in the US.
Full Article…
***
FLASHBACK:
Trini teacher accused of harassing rape victims
Supreme Court Justice has increased his bail from US$540,000 to US$750,000
A TRINIDADIAN teacher in New York who is accused of sexually molesting five students has been harassing his victims and enlisting other students to help him, US prosecutors have claimed.
Award-winning teacher in sex assault rap
A Manhattan biology teacher – who was honored for being an "outstanding teacher" at an all-girls' Catholic school – was charged yesterday with sexually assaulting two underage students. Richard Ali, 27, who teaches at Cathedral High School in Manhattan, allegedly had sex with one girl in his home and car, and molesting another girl at a Queens movie theater.
www.newnation.tv/forums/showthread.php?t=100183