By Raffique Shah
April 30, 2011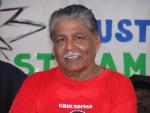 WHEN one sees the insensitivity—one might even say insanity—of persons who authorised and executed the destruction of food and root crops on three parcels of state land, one wonders what the hell is going on in this country. Successive governments, the incumbents included, have proclaimed their intent to make food production a priority. Yet, they have all committed agrarian atrocities, most times citing "progress" as an excuse. The price of progress is indeed very high.

There is something sinister about what happened last weekend. The HDC, or whoever issued the order for the lands to be bulldozed, chose the Easter long-weekend to crucify farmers. Why not on normal working days? Suspicious. The claim that the farmers did not have valid leases for the lands they planted is a moot one. Most farmers' 30-year leases on state lands, in districts like Carlsen Field and Waller Field, expired about ten years ago. The office of the Commissioner of State Lands is yet to renew these leases, leaving second-generation farmers in legal limbo.
Indeed, based on my personal experience, I have long declared that office a morgue where corpses come alive only for destructive purposes. So they could awaken from their netherworld to issue orders to evict people who produce food. But ask them to pursue legitimate activities like lease renewals or process applications for state lands, and they fall into slumber like "jumbies". Hundreds of people who are eager to get into food production on idle state lands are reduced to squatting or abandoning their projects. Yet, illegal quarrying on state lands continues apace.
The CEO of the HDC, Jearlean John, claims that she and the state corporation she leads acted within the law. However, Ms John knows that the law can be a damn ass at times. This was clearly case here. John's field officers must have noted that there were bearing crops in all three fields targeted for destruction. So even though the HDC had the authority to enter the lands, human kindness, not to add common sense, should have dictated that the agency wait for a few weeks until the farmers harvested their produce.
Clearly, the person who gave the final order was devoid of such sense or humaneness. But this display of state-stupidity stretches beyond the three fields where crops were destroyed. It touches on government's land use policy, or lack thereof. Those of us who have brayed in the wilderness for decades about securing our best soil-types for food production know that lands along the foothills of the Northern Range, and generally along the East-West corridor, best suited for agricultural purposes.
Many people may not know that the major "food basket" this country once boasted of stretched from Barataria (around the overpass) through Aranjuez, Bamboo, Valsayn (yes, Valsayn!), St Augustine and Pasea, all the way to Maloney, Sangre Grande, Valencia and surrounding districts.
The Diego Martin Valley and parts of Chaguaramas are also blessed with fertile soils. In contrast, much of the lands in Central and South-Central Trinidad is clay, hence the thriving sugar cane fields. Grass grows well on clay, and cane is a grass.
Because of the absence of a land use policy, governments have allowed most of the country's once-productive land mass to be covered with concrete and asphalt. True, housing development was bound to claim some of our more productive lands. No one is arguing against progress, against housing, against development. But there comes a point when the authorities must call halt to productive soil-types being used for purposes other than agriculture.
We have more than adequate low-grade lands on which we can erect houses, factories, businesses and so on. We cannot cry over fertile lands that are already lost to concrete and asphalt. But we can save what is left, secure it for growing food. Returning to the wanton destruction of farmers' crops at D'Abadie, Felicity and Cunupia, Ms John said these parcels of land were earmarked for housing since 2008. I am sure they were…I have no reason to doubt her.
But if we determine today that in the face of a global food crisis we must secure our productive lands, why can't we change that allocation? Can we not shift housing to Central and South Trinidad where there are huge tracts of former sugar cane lands suitable for such projects? That is what good governments do. It is also the kind of advice good technocrats and managers give to their line ministers.
The government, of course, has the ultimate responsibility in matters of this nature. These are policy decisions that we do not leave to bureaucrats and technocrats.
A few weeks ago, Food Production Minister Vasant Bharath said that farmers who have occupied and cultivated state lands over a period would not face eviction. He hinted that the state lands agency mentioned above was tardy, if not outright delinquent, in facilitating land tenure in the agricultural sector.
In other words, Bharath was saying all the right things. Yet, another agency that falls under his colleague Roodal Moonilal seemed bent on embarrassing him. Indeed, Minister Moonilal knew about the HDC's plan to bulldoze farmers and their produce off the lands. But he failed to exercise discretion or extend compassion to those who till the soil.
It was comforting to see and hear the Prime Minister, Minister McLeod, Senator Abdulah, the COP and others in government condemn the HDC's action. Let us never have a repeat of the agrarian atrocity that occurred last weekend.