Newsday's Editorial
Sunday, April 17 2011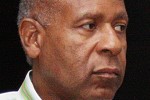 Former prime minister, Patrick Manning, not only had a private motion tabled in his name, rejected in the House of Representatives by vote of Government members, but suffered the public humiliation of five members of the political party he once led, the People's National Movement (PNM) openly refusing to give him the support he clearly expected.

It was no more than he deserved as despite the public handshaking with his successor, Dr Keith Rowley and despite his words to the contrary, Mr Manning has clearly been signalling his intention to challenge Dr Rowley at every turn.
The three PNM MPs who disobeyed the decision of the party caucus to abstain and instead voted with Manning, now face the possibility of disciplinary action. Manning's motion to allow a lawyer to question witnesses should disciplinary proceedings be brought by Parliament against him, was clearly doomed at the outset since the Government has 29 votes in the Lower House in relation to the Opposition's 12.
Mr Manning had been referred to the Privileges Committee by House Speaker Wade Mark following on his allegations about the cost of the private house of Prime Minister Kamla Persad- Bissessar, who denied the scandalous statement by Manning.
Of mounting public interest is the split in the PNM and all eyes will now be focussed on Dr Rowley's handling of this latest development.
Clearly the PNM, if it is to ever become the Government again, cannot go on this way with Manning's action like a maverick holding his own meetings, not discussing the private motion with the Parliamentary caucus and even publicly criticising his fellow PNM MPs.
Why Manning should have been astonished at Friday's turn of events is surprising to us, as his entire approach was not in keeping with well known discipline of the party and indeed of most political parties if they are to survive. Manning, who as noted earlier had not sought or received the approval of the Party caucus for his motion and never acted on recommendations from Opposition Chief Whip Marlene Mc Donald, clearly would not have tolerated such behaviour when he was political leader.
The view of the PNM Party caucus that Manning's motion violated the principle that Parliament regulate its own business is crucial. His motion was ill-advised and doomed to failure, despite his threats to take Parliament to court and as far as the Privy Council.
Manning's sudden concern for constitutional rights amuses us. Where was such concern when Newsday's reporter Andre Bagoo and Newsday itself were ordered by Speaker Barry Sinanan to appear before the Privileges Committee during Mr Manning's reign as Prime Minister? Our sin was the premature publishing of an apology which Udecott had been forced to make for its attacks on MPs. Manning sat pompously and silently in his chair as the recommendations of that committee sought not only to ban Bagoo, but ALL Newsday reporters from Parliament.
When the tables were turned however, and Mr Manning found himself having to face the Privileges Committee for much more serious allegations against Prime Minister Persad-Bissessar, he now wants the "right" to have a lawyer present to question witnesses and address the committee. How come that it is only when the heat is on him that he doesn't want the Privileges Committee to be "judge, jury and executioner?"
Give us a break!
http://www.newsday.co.tt/editorial/0,139071.html