By Alexander Bruzual
April 1 2011 – newsday.co.tt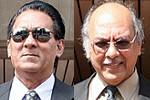 BUSINESSMEN Ishwar Galbaransingh and Steve Ferguson, who have spent the past nine months in jail, were yesterday granted bail by a High Court Judge.
Justice Ronnie Boodoosingh, presiding over Court 20 at the Hall of Justice in Port-of-Spain, granted bail to the men. However, the judge increased the original bail figure of $1 million per accused, to $2 million.

Fyard Hosein, SC, appeared for Ferguson along with attorney Rishi Dass while Andrew Mitchell, QC, appeared for Galbaransingh along with attorney Rajiv Persad. Nyree Alfonso is heading the instructing attorneys for both parties.
The crux of the attorneys' submissions focussed on three points — whether the court had the jurisdiction to hear the application; the length of time the two men spent in custody to date and the length of time the proceedings will likely take.
It was further noted that both Galbaransingh and Ferguson were on a previous bail of $1 million, with conditions being that they reported to the Four Roads Police Station twice a week — on Mondays and Fridays.
Attorney Avery Sinanan, SC, who represented the State along with attorney Kelvin Ramkissoon, noted the submissions but maintained that their office would remain neutral with regard to the application.
"It is right and proper for the office of the Attorney General, as protectors of the Constitution, to take a position of neutrality. While the State may have no positive objection to the application, at the end of the day it is an application which is before the courts.
"We are continuing our position of neutrality and if it is that you are minded to grant bail, we would ask for certain considerations. We (the State and defence) arrived at a consensus as to what those conditions should be," Sinanan told.
After further deliberations, Justice Boodoosingh granted the two businessmen bail with a surety to be approved by a registrar at the High Court.
The conditions of the bail were once again that both men report to the Four Roads Police Station twice a week, however, this time on Mondays and Thursdays.
It was further noted that their passports will remain lodged with the State and no further applications are to be made from them with respect to travel documents. This was the first time that a bail application made by attorneys for the two men was successfully argued since their arrest on June 15. Previous applications — made in June, July and December of last year — were all shot down by the presiding judges, Justice Vasheist Kokaram; Justice Malcom Holdip and Justice Andre Mon Desir, respectively.
Galbaransingh and Ferguson are wanted in the United States for bid-rigging and money laundering charges related to the Piarco Airport expansion project in 2001.
On December 17 last, the businessmen scored a partial victory in the Appeal Court which affirmed one of their two appeals. The two were granted a stay, which means Attorney General Anand Ramlogan, who made an extradition order on October 9, cannot do so until the court hears the men's substantive judicial review application.
The judicial review proceedings are expected to continue on May 10, following written submissions and responses which are expected to be filed and exchanged by May 2 and May 9, respectively.
http://www.newsday.co.tt/news/0,138147.html
***
Ish and Steve on $4m bail
Former United National Congress (UNC) financiers, Steve Ferguson and Ishwar Galbaransingh, who are deemed in the United States to be fugitives, were released yesterday on bail.
Ish, Steve get bail…stay in jail
United National Congress (UNC) financiers Ishwar Galbaransingh and Steve Ferguson were yesterday granted bail of $2 million each by High Court Judge Ronnie Boodoosingh but remained behind bars last night because of administrative hiccups.