Race talk hampering Police Service
By Clint Chan Tack
March 26, 2011 – newsday.co.tt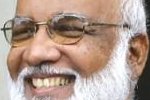 THE ability of the Police Service to win the support of the population in the war against crime in the country is being hampered by the perception of ethnic imbalance within the service.
Police Service Commission (PSC) chairman Nizam Mohammed made this charge as members of the commission met yesterday with the Municipal and Service Commissions joint select committee (JSC) in the Parliament Chamber of the Red House.

Declaring that he was determined to deal with the issue head-on, Mohammed told JSC members, "then you understand why the guns are being aimed at me." "We (PSC) need the protection of the Parliament," he declared.
Mohammed recalled that he has worked amongst police officers for the last 35 years during which many of them expressed their frustrations to him. He also recalled recently receiving a copy of a letter from the president of the Police Social and Welfare Division, Sgt Anand Ramesar, to Police Commissioner Dwayne Gibbs. In the letter Ramesar asked Gibbs to review the ethnic composition of a promotion advisory board. Ramesar referred to statistics provided from the Director of Personnel Administration. Mohammed revealed that there were no persons of East Indian origin from the ranks of commissioner to senior superintendent. However, he noted there were 21 superintendents of African origin and ten of East Indian origin.
Expressing optimism that the situation will become more balanced following superintendent examinations on Monday, Mohammed declared, "You get the impression that we are not sufficiently mature to look at this. You cannot hope to win the confidence of the public for the police. You cannot hope to revive or restore the confidence of the public in the police service if you do not have a properly structured police service," he added.
Observing that nearly half of the population is of East Indian origin, Mohammed said, "You are asking them to support the Police Service. They have to provide the Police Service with information. They have to feel protected by the police service when they see the hierarchy of the Police Service."
Health Minister Therese Baptiste-Cornelis, said she felt uncomfortable with the use of ethnic classifications in any job description. Stating that she was neither of African nor Indian descent, Baptiste-Cornelis said: "I consider myself a Trinbagonian." Opposition Senator Shamfa Cudjoe asked Mohammed whether he was advocating some type of affirmative action regarding the structure of the Police Service.
http://www.newsday.co.tt/news/0,137798.html
***
'Too many Africans in top police posts'
Police Service Commission chairman Nizam Mohammed says there are too many Africans in the hierarchy of T&T Police Service and he intends to address the issue with assistance from the Parliament.
Nizam Cries Race
'Too many Africans in Police Service'
UPDATES: March 27, 2011
Nizam must go
ASSISTANT Commissioner of Police Fitzroy Fredericks last night called for the immediate removal of chairman of the Police Service Commission Nizam Mohammed over racial statements Mohammed made on Friday.

Gibbs: There's no room for issues of colour and race
Police Commissioner Dwayne Gibbs yesterday disagreed with statements made by chairman of the Police Service Commission Nizam Mohammed on Friday that the composition of the executive of the Police Service does not reflect the society. Mohammed said there were too many officers of African descent who are in leadership roles within the service, compared to their East Indian colleagues, and he intended to change such with the assistance of Parliament.

Three PSC commissioners blank Addison Khan
TENSIONS have been brewing among members of the Police Service Commission, as lobby groups and members of the public intensify calls for the removal of chairman Nizam Mohammed.

Not as PSC chairman
Doubts about his fitness for office as Police Service Commission chairman, harboured and expressed from the moment of Nizam Mohammed's appointment, and heightened through his distasteful personal encounter with beat police officers, hardened into certainty on Friday. Whatever useful role Mr Mohammed may be capable of playing in T&T's public affairs, it cannot be as PSC chairman.

Fixin' T&T: Perilous to deny rights
Officials from Fixin' T&T, an independent lobby group, yesterday described statements made about the organisation by chairman of the Police Service Commission (PSC) Nizam Mohammed as "unfortunate and perilous" and an attempt to deny citizens of their right to freedom of expression.
UPDATES: March 28, 2011
Jack slams Nizam: I would have resigned
NOT ONLY has the controversial comments of Nizam Mohammed, chairman of the Police Service Commission (PSC), triggered outrage and condemnation, they have offended and hurt Government Minister Jack Warner.
"I feel offended because if you look at the history of the Police Service, you would understand that even in the old days when you couldn't get people to work in the police service, we had to go to Barbados to get police officers to work here because nobody wanted to work in the Police Service and therefore what we have now evolved over time," Warner added.

…Police Execs: Nizam's comments 'insipid at best'
Members of the police executive and first division officers were yesterday unanimous in their condemnation of statements made by head of the Police Service Commission Nizam Mohammed.

…Asst CoP: Recipe for division in Police Service
Admitting that racial tensions exist within the Trinidad and Tobago Police Service, Assistant Commissioner of Police Fitzroy Fredericks said the statements made by Police Service Commission (PSC) chairman, Nizam Mohammed, were only "fueling fire."

…Executive members want Nizam out
MEMBERS of the executive of the Police Service yesterday issued a call for chairman of the Police Service Commission (PSC) Nizam Mohammed to be removed from office.

…COP calls for resignation
THE Congress of the People (COP) has called for the resignation of Nizam Mohammed as chairman of the Police Service Commission (PSC), saying there could be a rise in racial tension among citizens as a result of a statement he made before a Joint Select Committee last Friday.

…Statements border on sedition—Ramesh

…Racial remarks made after police interviews
Secretary of the Police Second Division association Sgt Michael Seales yesterday dismissed a call by Asst Commissioner of Police Fitzroy Fredericks for the executive of his association to resign, claiming Fredericks had no grounds to issue that call and should be disciplined for his statements.

…Comments can spark healthy debate
HOUSING and Environment Minister Roodal Moonilal yesterday said the controversial comments by Police Service Commission (PSC) chairman Nizam Mohammed were part of a legitimate issue which could be placed on the front burner to bring about healthy debate.
UPDATES: March 29, 2011
Govt Blast Nizam
GOVERNMENT yesterday blasted statements made by Police Service Commission (PSC) chairman Nizam Mohammed of an apparent ethnic imbalance within the Police Service. The Government's condemnation was contained in an unsigned statement bearing the title "Office of the Prime Minister, 13-15 St Clair Avenue, St Clair."

Govt condemns Nizam's statements as divisive and reckless
President George Maxwell Richards appears to have no choice but to remove Nizam Mohammed as chairman of the Police Service Commission. Yesterday, Prime Minister Kamla Persad-Bissessar, the leader of the Government who promised a new kind of politics, roundly criticised Mohammed, in effect clearing the path for his dismissal.

Ghany: Now there's fear
Nizam Mohammed's statement regarding racial imbalance in the hierarchy of the T&T Police Service has re-ignited the fear of the "East Indian agenda".

COP calls on Kamla to remove PSC chairman

Seetahal: He's not fit to lead

President calls in Rowley
As public pressure mounts for the removal of Nizam Mohammed as the chairman of the Police Service Commission, President George Maxwell Richards is to meet with Opposition Leader Dr Keith Rowley to discuss the controversy today.

Bas: Probe imbalance claims
Former prime minister Basdeo Panday says claims of ethnic imbalance in the society should be investigated and dealt with.

Sharma comes to Nizam's defence

Sharma: Calls for resignation premature

Philbert: What discrimination?
Justice Minister Herbert Volney said yesterday that employment at national state institutions should always reflect the face and image of the nation, in terms of ethnicity, religious persuasions and politics. He added that any institution that is not balanced in that way will never repose public confidence in it.

Dumas joins call for Nizam to go

CWU: PM should move to revoke his appointment

Ramesar denies raising race issue
In a telephone interview with the Express, Ramesar confirmed he sent the letter after a complaint was received by one member. He emphasised, however, that he never raised any issue with respect to the ethnic composition of the Police Service. Rather, he said his letter called for ethnic equilibrium of the police promotion advisory board.

It's not CoP says Police Service
The composition of the Police Service Promotions Advisory Board is determined by the Police Service (Amendment) Bill 2007 and not by the Commissioner of Police.

A desire for equality
The recent remarks of Police Service Commission (PSC) chairman Nizam Mohammed, in relation to the perceived ethnic imbalance in the police service, has resulted in an interesting, if not unexpected, reaction from the PNM and other sources. The statement by Mr Mohammed is not as controversial as it seems, since those from the ethnic Indian community have long since complained of discrimination from successive ethnic African (mainly PNM) dominated executives, police and other public services.

Nizam's numbers
It was Nizam Mohammed, as the Speaker of the House, who reintroduced the mace to Parliament in 1987. And though centuries before Oliver Cromwell famously dissed the mace as "a fool's bauble", last Friday Nizam looked like Cromwell, the Lord Protector. By the time it was over, a bauble, even one of a fool, might have been a place of safe retreat.

Something is amiss
Once again we are faced with a rush to turn the focus away from a central issue and engage instead in personalities.