By Anna-Lisa Paul
December 17, 2010 – newsday.co.tt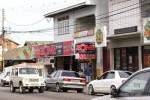 Despite assertions by Port-of-Spain Mayor Louis Lee Sing that bars in his mayoral district will stop selling liquor at midnight, a senior magistrate yesterday said the court's hands were tied as it pertains to the law governing the granting of liquor licences.
Chairman of the Licensing Committee for the St George and environs district, Senior Magistrate Lucina Cardenas-Ragoonanan said only the respective minister can give effect to restrict hours for the sale of alcohol. The Ministry of Legal Affairs is the ministry under whose purview the granting of bar and liquor licences fall.

"The only time the (Licensing) Committee will impose conditions is when an objection may be taken. The committee is not simply going to say carte blanche that the establishment must close at 12 (midnight). We can't do it except if the minister puts in a legal notice," Cardenas-Ragoonanan stated yesterday as she presided over the sitting of the Licensing Committee. Cardenas-Ragoonanan was at the time referring to the current situation in which Lee Sing is attempting to restrict the sale of liquor after midnight in Port-of-Spain, Woodbrook and St James.
"It cannot be the responsibility of bar owners to police their patrons," the magistrate said as she concluded yesterday's sitting in which more than 80 existing and new applications were received.
Among those were liquor licenses, as well as restaurant and dancehall licenses. Acknowledging the complaints made against persons who frequent these establishments, Cardenas-Ragoonanan called for greater involvement of the police in dealing with patrons to ensure they do not break the law.
"I know it is with good intentions but we have to deal with the law as it is and give everyone an opportunity," she continued, "You must come to make objections if you are serious otherwise the committee will assume everything is okay and I can go ahead to grant applications."
The magistrate further stated, "There is no way to know that those persons whom complaints are made against are actually patrons."
While it was anticipated that Lee Sing or other city corporation officials would have been present in the court yesterday to voice objections to the renewal and granting of new licenses to persons to operate in Port-of-Spain and environs, no one was present. When contacted, Lee Sing said, "It was certainly a slip-up on our part. We did not know the Licensing Committee was sitting today (yesterday). Had we known, we certainly would have had representation in the court."
Lee Sing said he had received complaints from residents in Woodbrook and St James that patrons to establishments in these districts were disrupted by persons parking indiscriminately, urinating on their perimeter walls, and general annoyance.
His stern and controversial decision to have bars stop selling alcohol at midnight has been severely criticised by bar owners, who say they are likely to lose revenue as well as eventually be forced to send home staff.
Lee Sing disclosed yesterday he has since reached an agreement with bar owners in St James to close their bars by 3 am, with last call (for drinks) being made at 2 am. Newsday was told that city corporation officials met with the senior superintendent for the Western Division and the assistant superintendent for St James on Wednesday and were assured that measures were in place to curb the sale of liquor after 3 am and maintain law and order.
Lee Sing said the police efforts were being supplemented by the city police.
But Lee Sing still intends to write to the Attorney General on the issue.
He said, "We are making infant steps in the matter."
Legal Affairs Minister Prakash Ramadhar yesterday confirmed the issue of the granting of bar and liquor licences fell under his purview but to date, he had not received any correspondence from Lee Sing or any other party seeking to amend the law.
He said, "There are always two sides to a story and we have to research whatever approach is being made and ensure it is a legal one."
The Licensing Committee will convene on December 22 to decide on occasional licences and on January 6, 2011, to deal with general licences.
http://www.newsday.co.tt/news/0,132611.html