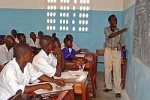 THE EDITOR: I am a retiring teacher who has served the government and the public for 33 plus years. Over the last few years, my health has deteriorated rapidly, up to being carried off to Mt. Hope because of a heart attack in the classroom. I endure two low-function kidneys, neuralgia, an inoperable hernia, depression, diabetes and uncontrolled high blood pressure…just to name a few.

From my entry into teaching I participated in numerous extra-curricular activities involving the students. Last November, I was sent before the medical board and found unfit to continue in the classroom. In March of this year, my salary was stopped. It was deemed an accident at the time. However, that was never corrected.
For six years, the government has owed me arrears of increment. For two years, I pursued same as I realized that I would have been unable to continue in the service much longer. In September of last year, my salary was finally adjusted and the arrears approved. That was before the board. Up to today, I have received nothing. A month's full pay and 1 month's half pay was approved for me in May, this year. I have practically lived in Pay sheets; always excuses; nothing.
I am 4 months behind with my rent. Where do I turn? I have followed every lead to obtain monies owed; I have become well-known in Benefits. I have been to the Ombudsman. Now I'm here. I have even posted on Kamla's page on facebook. No reply there. I am learning the hard way that the old and unwell are regarded as useless in this society. Those large administrations, like government agencies, never see the small man.
I even found myself at Service Commissions; they claimed to have never received the report from health which Benefits claimed to have forwarded. Dead-ends everywhere… dead-ends. I have been spun around and around so much, I sometimes don't remember which way to go next!
I have even made an appeal to the Minister of Education. Again, nothing. But if a teacher misses one class, arrives late or is absent even one day you receive all kinds of attention and correspondence.
Is there anybody out there who can help? I know there is, but, the question is, "Do they care enough?"
Please. Don't let my years as a teacher just be an ugly memory. Let there be life after teaching, not only for me, but for all the others out there.
Claire Jones,
11 St. Vincent Street,
Tunapuna.