By Raffique Shah
July 18, 2010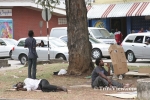 EVERY time I hear someone parrot poverty numbers in my Trinidad and Tobago, I wince. Politicians, and many ordinary citizens, often accept as the "gospel truth" the amount of people in this country said to be living "below the absolute poverty line", defined as US$1 a day. The estimated numbers range from 10 per cent to 20 per cent of the population, which suggests there are between 130,000 and 260,000 desperately poor people in our midst living on less than TT$6.37 a day. That's around $190 a month.

These widely circulated and seemingly credible numbers are trotted out by some international agency or academic study. I always wonder how they determine the precise numbers. In the district where I live, which, I should explain, is no upscale, gated-community, but an ordinary one-time sugar cane plantation, I look deep and hard to find these poor sods who cannot afford two "doubles" a day. I don't see any. Or maybe if they exist, they are hiding behind the proverbial fig leaves.
Listen, the fortnightly Muslim hustler who boards my home (why me? I often ask), and who ritually adopts the prayer stance (while he faces north, not east, eh) before he explains how he left three starving children at home, first tugged at my heart and relieved me of $5. When his visits—or raids—assumed timing like a soldier doing drill, I questioned his bona fides. So I reduced his "allocation" to $1. He didn't seem impressed. But then he attacks most other homes on my short street, and, I imagine, scores of other homes as far as his legs can take him.
I use him as an example, but there are many others who are equally questionable. A few days ago a lady who infrequently "hits" my street, came a-begging: one dollar a person, I insisted, much to my wife's visible shame. Of course, that lady, too, touched all homes on the street. If the residents were as mean as I was, she would have still earned close to $20 on my street alone. Again, like the bogus Muslim, try to add up her daily "earnings". Surely, she must make at least $60 a day, just walking from house to house.
There are several aspects of this poverty business (well, thousands have turned it into a business, and big business at that!) that bothers me. Let me be clear on my stance: I know there is poverty in this country, something we should be ashamed of given our abundant resources. The problems here are manifold. In the main, they are the inequitable distribution of wealth, the flawed methodology used by welfare officers to determine who qualify for the many grants available to citizens, and political patronage that excludes one-half the poor, among similar deficiencies in the welfare system.
But we cannot exclude sheer laziness on the part of too many of our citizens, many of them "hardback" men and women who can easily get by if only they are prepared to work. In the midst of the 2007-2008 boom, when one could not find household help and farmers struggled to till the soil without hired labour, I used to marvel at the scores of young men I would see idling, hustling at the nearby junction. Bear in mind I'm located a few miles away from Point Lisas where "wuk" was easily available at that time.
In other words, while the capitalist economy and societal structure allow for pockets of poverty, there are also physically capable people who insist on living off the sweat of others who are stupid enough to actually work. Even more annoying is this: have you ever seen a "beggar" or "hustler" who is without a cellphone? I read some numbers recently that indicated T&T has a mobile "penetration" rate of 1.6 per person. What that means is each person carries around one-and-a-half phone(s)!
All of what I have written thus far, and much more that space constraint does not allow, suggests the presumed percentage of the population living on below US$1 a day is hogwash! In any case, the absolute poverty line in a country like ours should be TT$100 a day. The old age pensioner gets that now, and when the new Government increases the sum to $3,000 a month, pensioners will come closer to what I see as the minimum earnings every national should enjoy- $5,000 a month.
Recent per capita gross national income for this country stood at US$16,540 (or TT$104,000). That is what each person ought to be making a year—if we lived in a perfect world. We do not. The capitalist system allows for a few in the upper echelon of society to enjoy immense wealth, some to live very comfortably, while the majority of the population struggles to get by on bare essentials.
We cannot change that unless we change the economic system, which is hardly likely in a world sold on the notion that unbridled capitalism is the best invention since religion. By extension, this also means that poverty comes with the package. But let us not further demean ourselves and our country by suggesting that ten or 20 per cent of our people are starving. I boldly proclaim that no one in Trinidad and Tobago lives on less than US$1 a day.