By SEAN DOUGLAS, newsday.co.tt
Sunday, June 18 2006
…Did Crouch break the dreadlock?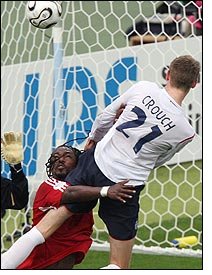 MANY international media houses yesterday hit the controversial tugging of the plaits of TT defender Brent Sancho by which England striker Peter Crouch broke the nil-nil tie to which TT had held the Brits up to the 82nd minute.
First with the story was the Daily Telegraph whose "Controversy over Crouch 'tug'" on Friday said Crouch's goal was overshadowed by controversy when television pictures, which appeared to show him pulling Sancho's hair, were highlighted by German commentators and pundits, despite the referee missing the incident. The Telegraph said Crouch had "appeared to grab his dreadlocks before climbing above him to steer David Beckham's cross past Shaka Hislop."

The same story also appeared in Australia's Sydney Morning Herald under the heading: "Crouch faces ban for hair pulling."
The website of sports station ESPN posted a story on Thursday called "Crouch pulled up over controversial goal" which said: "But pictures broadcast later on German television appeared to indicate Crouch had tugged at the dreadlocks of the Gillingham player before netting."
Several websites including "icLiverpool.com" ("Crouch pulled up for goal") and "Teamtalk.com" ("Did Crouch break the dreadlock?") all carried the same article. It said: "Peter Crouch's opening goal v T&T is the centre of controversy as TV replays showed he pulled Brent Sancho's dreadlocks as he won the header. At first glance it looked like a fair header from the 6ft 7ins Liverpool striker. But slow-motion replays clearly showed Crouch grab a handful of Sancho's hair and leap above him. It stopped the T&T defender from jumping to challenge for the ball. Referee Toru Kamikawa missed the incident."
In The Scotsman yesterday Colin Stewart wrote a story "Sancho angry as TV shows Crouch pulled hair to climb". It said: "At 6ft 7in you wouldn't think Peter Crouch would need to resort to illegal tactics to outjump defenders who are comparatively diminutive in stature. But that is exactly what the England striker did while scoring the breakthrough goal in the laboured 2-0 victory over Trinidad and Tobago. Television replays clearly show the Liverpool attacker tugging at the hair of Brent Sancho as he leaps above the Trinidad defender for the 82nd minute goal in Nuremberg on Thursday. Crouch grasps Sancho's dreadlocks with his right hand and yanks so hard that his opponent's head twists round violently." The newspaper noted that Crouch had given no indication of there being any controversy over his sixth goal in five games for his country when interviewed before Sancho's gripes came to light, merely saying: "It was great to score in a World Cup and it was a special moment for me.' The paper added that it was only when the incident was picked up on the late night World Cup highlights programmes on BBC 1 and ITV 1 that the extent of Crouch's interference became clear. The Scotsman however also noted little sympathy for Sancho on British television's Match of the Day programme with commentator and ex-England player Ian Wright scoffing: "It serves him right for having long hair."
Glasgow Evening News, also of Scotland whose nationals have been supporting Trinidad and Tobago, ran a story on Friday called "Sancho fury as Crouch left Warriors for dread". It said: "Trinidad defender Brett Sancho insists his side were robbed of a famous World Cup result after claiming he was fouled by England striker Peter Crouch for the opening goal in Nuremberg…Pictures broadcast later on television appeared to show Crouch had tugged at the dreadlocks of the Gillingham player before netting."
The Japan Times Online "England's performance against minnow doesn't bode well" by Christopher Davies in Munich spelt it out fully, saying it had been exposed on the German television programme hosted by retired Swiss referee Urs Meier who had disallowed an England goal over fouling in the Euro 2004 finals.
The Japanese newspaper said Meier had on Thursday night wondered why Sancho had not challenged as Crouch headed the ball past goalie Shaka Hislop.
"Meier's programme revealed the reason — using slow motion and closing in on the two players, it was shown that Crouch pulled Sancho's dreadlocks as David Beckham's cross came over. Sancho's head was yanked 90 degrees, he never stood a chance of offering even a token jump. It says much about England's mediocre performance that it had to resort to illegal tactics to break down a stubborn T & T." Davies said there is nothing FIFA can now do retroactively (to recompense Trinidad and Tobago), and that the referee "cannot be blamed for missing the dreadlock deadlock."
The Japanese Times correspondent condemned the incident and moreso the English fans.
"The problem with cheating is that when England does it, the attitude tends to be sweeping it under the proverbial rug…Had a T & T player done the same against England and it had gone on to win, all hell would have been let loose by the English red tops and the extremist element among the national side's support."
The British BBC Sport website ran a story "Sancho makes claim against Crouch."
http://www.newsday.co.tt/news/0,39325.html