TTN Cable Subscriber
October 25, 2007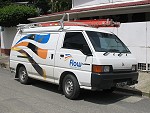 Flow's Internet 'service' in the Maraval area where we have their "Internet lack of service" has been down for two days. After calling the Flow company, the person who eventually answered the telephone after several attempts said he had to send an email to their technical department because he could not get through to them on the phone. He said that someone may contact us tomorrow.

Flow has time and time again proven to be unreliable and quite annoying with their lengthy telephone commercials that go on for at least half an hour before anyone answers, that is, if anyone ever answers at their help desk.
When I called, (and this is not the first time) Flow's telephone receptionist did not have any information or solution to their lack of service problem except to say that they have been receiving calls today and someone would contact us tomorrow. We have been told that before and although it is highly unacceptable to be technically told that we would have to go without Internet access for such a long time, rarely do they make follow-up calls.
The government of Trinidad and Tobago has placed us in this position with the Flow cable company (Columbus Communications Trinidad Limited) by allowing them to have a monopoly on cable 'service' without evaluating the reliability of the company and how they deal with people. Calling what they deliver an 'Internet service' or a 'Cable service' is quite oxymoronic and downright false. This company should be severely penalized for giving poor service.
The foreign owners are allowed to reside abroad and exploit a monopoly without ever facing the effects of their lack of service.
Because of the poor 'service' of these major providers in the country we have been forced into using two Internet providers and sometimes both are down at the same time.
Flow's Internet and Cable 'services' are the pits!