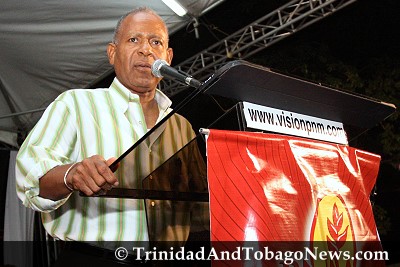 By Clint Chan Tack
May 29 2010 – newsday.co.tt
PRIME MINISTER Kamla Persad-Bissessar yesterday instructed her new Minister of National Security, Brigaidier General John Sandy to provide state security to former Prime Minister Patrick Manning.

Speaking to reporters after yesterday's swearing-in ceremony of members of her new Cabinet at Knowsley Building, Port-of-Spain, she told reporters Manning did not ask for security, but she was of the view that he needs to be treated with respect because of the Office he once held.
"He should have respect as a leader. More than 200,000 persons voted for him and we should respect that," Persad-Bissessar said, noting that a vehicle and security would be provided for Manning.
Her comments came a day after Manning faced a rowdy crowd of disenchanted PNM supporters at Balisier House, Port-of-Spain, moments after he tendered his resignation as PNM political leader to the PNM General Council.
Full Article : newsday.co.tt
***
Kamla pledges guards, vehicle for ex-PM
Prime Minister Kamla Persad-Bissessar has instructed her National Security Minister, John Sandy, that his first act be to provide security for former prime minister Patrick Manning.
Manning bids farewell to staff
Enill: PNM top brass to name senators
Since the People's National Movement (PNM) was without a political leader, PNM chairman Conrad Enill says the PNM's leadership would make a collective decision to choose its senators.
Imbert moves against Rowley
Fight in PNM for Opposition Leader…
Rowley slams rowdy PNM supporters
DIEGO Martin West MP and Opposition Leader designate Dr Keith Rowley yesterday condemned the rowdy, rude and insulting reception former Prime Minister and PNM political leader Patrick Manning got from angry PNM supporters at Balisier House on Thursday night.
He served T&T well
Rowley sympathises after Manning booed at Balisier House:
Diego Martin West MP Dr Keith Rowley said yesterday what happened outside the PNM's Balisier House headquarters with former prime minister and political leader Patrick Manning on Thursday night was unfortunate.
Manning's constituents turn on him
Lessons from the PNM defeat
In my view there are three major lessons, among others, to be learnt from the comprehensive PNM defeat in the 2010 General Elections. The first concerns the style of governance, the second the scope of the party's appeal and third the relationship between the political party and the government from which it is derived.
Of mice, men, manicou and Manning
When swift, decisive action is required by an individual, the British way of determining whether you are up to it is to ask, 'Are you man or mouse?' The British, of course, do not know anything about the mice in Antigua where I live.