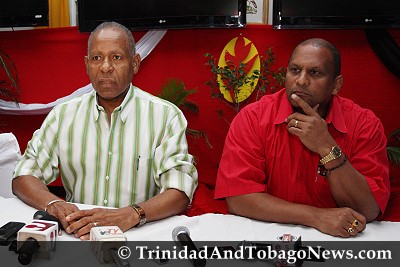 7: 20 PM – May 27, 2010
It has been confirmed that Patrick Manning has resigned as the political leader of the PNM.
PNM's Party Chairman Conrad Enill said that Mr. Manning has stepped down. He said that Patrick Manning offered to stay on until a new political leader was found. However, insiders said that the General Council asked Mr. Manning to resign with immediate effect. Mr. Manning then resigned and promptly left Balisier House.


Dr. Keith Rowley has agreed to take up the position of Opposition Leader until the party holds a Special Convention on June 27th when a new party leader would be elected and the position of Opposition Leader confirmed.
***
News Update: May 28, 2010
Manning's letter of resignation
The General Election of May 2010 did not result in victory for the People's National Movement. As Political Leader I accept full responsibility for this result. I am of the view that the party should in these circumstances now proceed to elect a new political leader in the shortest possible time and in accordance with the party's constitution.
To facilitate this process, I hereby resign from the office of Political Leader. May I also indicate that if it is the party's wish I am prepared to stay on as political leader until a new political leader is elected at which time it would be my pleasure to gracefully demit office.
I was first elected Political Leader on February 8, 1987 and it has really been a pleasure to serve the party these past 23 years. I wish to thank the party's membership for the opportunity to serve at this level and for such a long time. I wish also to assure you and through you our party's membership that I will give full support to the new political leader and would at no time operate in any manner the effect of which would be to bring the party into disrepute.
Yours in PNM, Patrick Manning
***
PNMites, general council tell Manning: GO NAH!
The stone that the builder rejected has become the cornerstone. Diego Martin West MP Dr Keith Rowley, on whom the leadership trained its guns for the last two years, was yesterday embraced by the General Council when they asked the PNM parliamentarians to indicate to President George Maxwell Richards that they were supporting him for the position of Opposition Leader.
Manning quits, Rowley in
THERE was high drama at Balisier House last night as Patrick Manning resigned as political leader of the People's National Movement (PNM) and the party's General Council advised the party's 12 MPs in the House of Representatives to support Diego Martin West MP Dr Keith Rowley as Opposition Leader.
Cops protect former PM
Officers from the Guard and Emergency (GEB) branch sprang into action yesterday to protect former prime minister Patrick Manning when his vehicle was mobbed by scores of angry party supporters who booed and held up placards at him as he left Balisier House, Port of Spain.
Imbert mum on support for Rowley
PNM Diego Martin East MP Colm Imbert has remained mum on whether he will support fellow MP Keith Rowley for the post of Opposition Leader.
Post-election pain for PNM
In his concession speech on Monday, former prime minister Patrick Manning followed the best tradition of democratic politics and accepted full responsibility for his party's defeat. The country was, however, taken aback that such acceptance was not followed by the action immediately, or the morning after, of resigning his position as PNM political leader. Instead, he waited until yesterday.
The emperors' new close
After the results of last Monday's election, I am confused, dejected, and even considering using curl activator. And, no, this is not because I am a PNM-till-ah-dead. While it is true that PNMites' faith in a world where Great-is-the-PNM-and-it-shall-prevail has been shaken worse than Haiti last January, at least they can go and pray at the church in Guanapo. My faith, however, has been even more badly rattled by the 29-12 outcome: and, in this weather, I can't even go hiking to El Tucuche.
Manning's sad fall
A mere 13 months ago the world was at his feet. Patrick Manning, bearing the exalted title of Prime Minister, had just hosted the Fifth Summit of the Americas, a conference that huddles leaders of the hemisphere. Manning rubbed shoulders with US President Barack Obama, within months of the latter's presidency.