By Stephen Kangal
May 27, 2010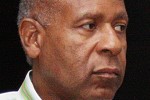 The peaceful and civilized conduct and determination of the 2010 elections without incidents in which there was so much at stake for the incumbent regime makes me feel proud to be trini. The tenour of this election signals that T&T has achieved a note-worthy and qualitative leap in several aspects in the evolution of our political culture. This is the people's achievement acting collectively to get the politics and its operating environment right.

Since 1986 I have always believed in the sagacity of the electorate to act decisively and to do justice when the national imperative demanded it. Manning took the electorate for granted and paid the ultimate price for his dictatorial arrogance and opulent life-style. His was a classic case of power corrupting the holder absolutely.
He felt that dispensing political state patronage and taking good care of the PNM selective faithful was a passport to political immortality. In the last twenty-four years, the PNM has lost four out of the eight elections held including two embarrassing melt-downs. Both in 1986 and 2010 wanton and widespread corruption constituted the undoing of the PNM. To suggest the spin that Manning acted independently of the PNM is pure foolishness of the highest order.
Can a re-branded PNM with new leadership ever convince the people again that it can break away from its cultural moorings of stigmatised graft, endemic corruption, secretive governance, exclusion and shameful abuse of the public purse for partisan electioneering purposes?
These sordid memories of repeated mismanagement of the patrimony are now permanently etched in our psyche.