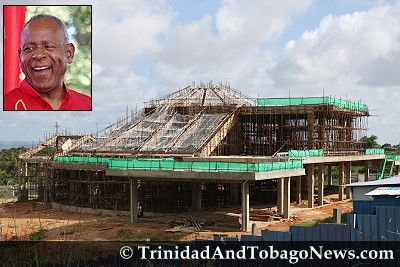 Kamla: PM Linked to Church
…Calder Hart too
By Anna Ramdass
Opposition Leader Kamla Persad-Bissessar yesterday produced documents purporting to show a direct connection between Prime Minister Patrick Manning and former UDeCOTT executive chairman Calder Hart in the design and construction of the Lighthouse of the Lord Jesus Christ Church at the Heights of Guanapo, Arima.

Persad Bissessar said she will send these documents, together with a request for an investigation into possible criminal conduct by the Prime Minister under section 3 of the Prevention of Corruption Act, to the Commissioner of Police (CoP) and Director of Public Prosecutions (DPP).
Full Article : trinidadexpress.com
***
Letters Link PM, Hart to Church
By Andre Bagoo
CORRESPONDENCE released by Opposition Leader Kamla Persad-Bissessar yesterday, which disclose apparent links between the construction of a church at the Heights of Guanapo and Udecott, make references to the Prime Minister's Residence and Diplomatic Centre in St Ann's and raise questions over a possible direct connection between Prime Minister Patrick Manning and the project.
The documents make reference to someone referred to as "the PM" and also show that the Town and Country Planning Division granted final approval for the church on April 16, the same day Manning announced the May 24 date of the General Election.
Full Article : newsday.co.tt
***
'You left me to face an impassioned woman'
By Anna Ramdass
A signed letter by architect Stephen Mendes showed that former UDeCOTT chairman Calder Hart had introduced him to Prime Minister Patrick Manning's spiritual adviser, Juliana Pena, who convinced him (Mendes) to prepare the design for the Guanapo church.
The letter, which shows Hart's direct involvement in the church's designs, was released by Opposition Leader Kamla Persad-Bissessar yesterday at a press conference.
Mendes's letter, dated February 26, 2010, was sent to Hart at UDeCOTT's office at Sackville street, Port of Spain.
According to the letter, Mendes clarified his role and position in the project after receiving a phone call from Town and Country Planning Division for information on an application made in his name, which he did not know about.
Mendes reminded Hart that in November 2005, after completing a meeting with him at the Home Mortgage Bank offices, he (Hart) asked him to meet a lady who required his assistance.
Full Article : trinidadexpress.com