Kamla's niece, driver carjacked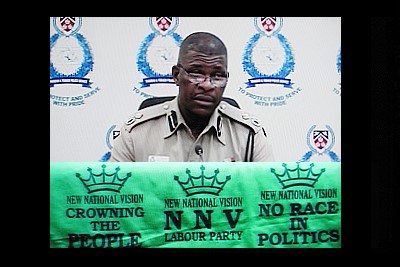 By Azard Ali
Saturday, May 15 2010
THERE are persons who have been hatching a plot to violently disrupt the general election, according to acting Police Commissioner James Philbert.

Evidence of the plot was unearthed on Thursday, by a party of his officers who raided a house in Carenage where they seized an AK-47 assault rifle, two magazines and 48 rounds of ammunition.
Philbert told a media conference yesterday at Police Headquarters, Port-of-Spain. He reported the seizure of several green coloured T-shirts. The raid at the house took place at about 8.30 pm on Thursday, and Philbert disclosed to the media its location at Mackenzie Drive, Carenage.
The police party went to the house, Philbert said, and after conducting a search and seizing the weapon and ammunition, came upon the keys for a car. Upon opening the vehicle which was parked in a garage nearby, they saw the green T-shirts. There were 22 of them. The T-shirts, as well as the AK-47 and ammunition together with the magazine, were displayed for the media at yesterday's conference.
Sitting in with the commissioner was his Acting deputy, Gilbert Reyes, and Assistant Commissioner of Police (Special Branch) Raymond Craig.
Full Article : newsday.co.tt
***
Cops foil election terror plot
A plot hatched by local terrorists to disrupt the process of the May 24 general election has been foiled by law enforcement officers.
Election Plot
Cops link AK-47 rifle, ammo to planned disruption of May 24 polls
***
UNC leader's SUV taken at gunpoint
Anika Gumbs-Sandiford
Kamla Persad-Bissessar's SUV was being analysed for fingerprints last night, after it featured in a dramatic mid-afternoon gun crime. One week after a $5 million "hit" was allegedly taken out on the life of the prime ministerial candidate, her 31-year-old niece Lisa Harry and driver Denzil Dookeran were yesterday robbed at gunpoint. The gunmen drove off with Persad-Bissessar's luxury Toyota Prado. Police discovered the vehicle hours later in some bushes off the Churchill-Roosevelt Highway.
At a news conference yesterday, acting Police Commissioner James Philbert said the police had no evidence to suggest that the robbery was politically motivated. The drama unfolded at around 2.30 pm outside Tunapuna Hindu School, shortly after the duo left a function at the Centre of Excellence at Macoya. The gunmen emerged from a silver Almera car and announced a hold-up. Two men drove off with Persad-Bissessar's vehicle, while the third sped off in the Almera. Dookeran and Harry were left stranded along the highway. They were unharmed. Eventually, they secured a phone call and told a political colleague of the vehicle's hijacking.
Full Article : guardian.co.tt
***
Kamla's niece, driver carjacked
A week after a report of a $5 million contract on her life surfaced, UNC political leader Kamla Persad-Bissessar was confronted with yet another ordeal when her niece and personal driver were held up by two gunmen who robbed them of Persad-Bissessar's official Toyota Prado SUV in Tunapuna.
Persad-Bissessar: No random robbery
Opposition Leader Kamla Persad-Bissessar told supporters last night that she does not believe the hijacking of her niece and official driver earlier in the day was a random robbery. She was speaking at the party's political meeting in Penal. Persad-Bissessar said what was disturbing was that her Prado was found minus confidential documents. "What is disturbing is the interpretation one places on the removal of those documents," she said.