UPDATE: August 20, 2007 – 8:35 AM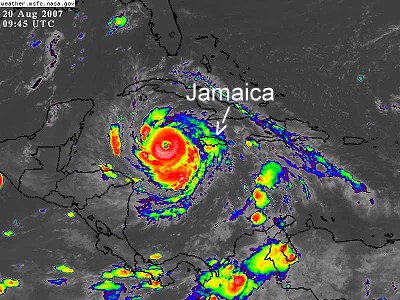 Hurricane Dean lashes Jamaica
KINGSTON, JAMAICA: Hurricane Dean pummelled Jamaica with gusting winds and torrential rains yesterday after the prime minister made a last minute plea for residents to abandon their homes and head for shelter. Many residents ignored the call, however, while tourists holed up in resorts with hurricane-proof walls.
Hurricane Dean Heads to Yucatan After Hitting Jamaica
The Cayman Islands may be spared Hurricane Dean's 150 mile-per-hour winds as the storm heads toward Mexico's Yucatan Peninsula after battering Jamaica.
Jamaica devastated by Hurricane Dean
Residents in Jamaica were today faced with the devastation caused by Hurricane Dean.
Dean batters Jamaica but worst 'still to come
Jamaica received a severe battering from the first hurricane of the Atlantic season but appeared to have escaped the worst after Hurricane Dean whipped past the island's southern coast overnight.
The storm hit Kingston, the Jamaican capital, with winds of up to 150mph, downing power lines, ripping off roofs and blocking roads with debris before spiralling off into the Caribbean in the early hours.
But the only casualty appeared to be a man reported missing after falling trees crushed his house and there were no reports of any injury to the thousands of foreign holidaymakers on the island.
Caymans brace as Hurricane Dean nears
Hurricane Dean plows into Jamaica
Hurricane DEAN pummelled Jamaica with gusting winds and torrential rains yesterday, after Prime Minister Portia Simpson Miller made a last-minute plea for residents to abandon their homes and head for shelter…
Trinidad and Tobago Govt pledges to help
As Hurricane Dean crashed into Jamaica yesterday, Trinidadians living in that country were bracing for the worst while Government assured that a helping hand would be extended to the Caribbean neighbour.

UPDATE: August 19, 2007 – 6:16 PM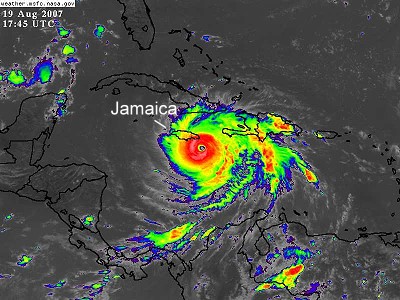 Dean's northern eyewall punishing Jamaica
The center of Powerful Hurricane Dean is now just 70 miles away from Kingston, Jamaica. Hurricane-force winds are now likely in full gear especially across the southeastern portion of the island nation. Waves are battering the southern and eastern shore and torrential rains have begun.
Hurricane Dean Begins Lashing Jamaica
Jamaican Leader Pleads for People to Go to Shelters As Hurricane Dean Begins Lashing Shore
'Warlike readiness' in Jamaica
According to the US National Hurricane Center, Hurricane Dean is packing sustained winds of up to 240 kilometers (150 miles) per hour, placing the hurricane a notch below category five, the most severe level.
"Preparations here are very similar to preparations for war," Alon Gildoni told Ynetnews. "We are gathering a lot of water, canned food, and candles, and we are entrenching ourselves in our homes," he added.
UPDATE: August 19, 2007 – 2:15 PM
Jamaica Prepares For Hurricane Dean YouTube
Curfew declared, soldiers patrol streets as Hurricane Dean nears Jamaica
Jamaica declared a curfew and troops and police patrolled the streets Sunday as Hurricane Dean bore down on the island as a ferociously powerful storm, having already killed five on its path through the Caribbean.
Jamaica Braces for Direct Hit by Hurricane Dean
Residents huddled in their homes today as rain poured on the island, the beginning of what forecasters predicted could turn into gale force winds, mudslides and heavy damage. The time for escape has passed as Jamaican authorities shuttered the airports Saturday night. The police ordered businesses closed in an attempt to avoid the looting that followed Hurricane Ivan in 2004.
50 TT students in Jamaica
In light of the forecast that Hurricane Dean will directly pass over Jamaica, the Ministry of Foreign Affairs, through its High Commission in Kingston, has been in contact with Trinidad and Tobago students on the island, a release yesterday stated.
No flights to Jamaica
DUE to the disruption caused by Hurricane Dean, Caribbean Airlines will not operate its scheduled service from Antigua to Kingston and Kingston to Antigua today.
Jamaica Prepares for Hurricane Dean Hit
Tourists Flee As Jamaica Prepares for Hit From Hurricane Dean; Texas, Mexico Start Evacuations
Dean reaches Jamaica, on track to hit Yucatan
Hurricane Dean, a category 4 storm that is the first of the season, on Sunday afternoon reached Jamaica as it travelled through the Caribbean on a path set for Mexico's Yucatan peninsula. "The first effects are being registered," a member of the Jamaican disaster-response services was reported as saying. Wind speeds were reported to have picked up significantly in western parts of the island and heavy rainfall was recorded.
UPDATE: August 19, 2007 – 2:20 AM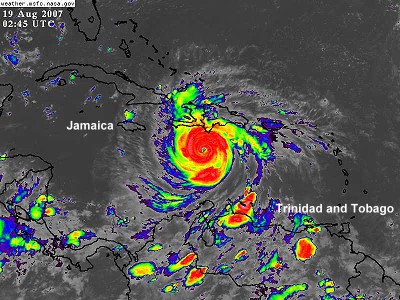 Dean takes aim at Hispaniola, Jamaica
Hurricane Dean barrelled across the central Caribbean yesterday and took aim at Hispaniola, Jamaica and Mexico's Yucatan Peninsula, with forecasters saying it could turn into a monster Category Five storm within 48 hours…
Texas Watches As Hurricane Dean Nears
DEAN'S COMING! Jamaica braces for hurricane hit
DEADLY AND dangerous Hurricane Dean has Jamaica in its firing line and predictions from the National Hurricane Center in Miami, Florida, are that the storm will hit Jamaica later this evening.
All eyes watching Dean's path
Hurricane Dean streaked toward Jamaica and the Yucatan Peninsula on Saturday, and President Bush issued a disaster declaration for Texas days ahead of its final landfall, most recently projected for northern Mexico.
UPDATE: August 18, 2007 – 8:30PM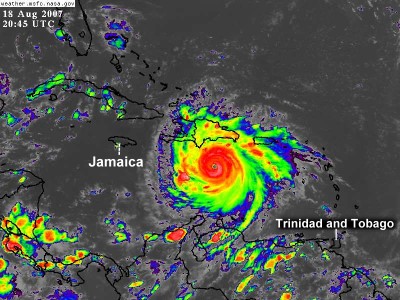 Poor huddle in flimsy shacks as Hurricane Dean gathers speed
Hurricane Dean churned across the Caribbean yesterday, heading directly for the dirt-poor island of Hispaniola, Jamaica and Mexico's Yucatan Peninsula.
Jamacia bracing itself for Hurricane Dean
Hurricane Dean, the first of what is forecast to be a busy 2007 Atlantic hurricane season, has already hammered the eastern Caribbean, killing three and flattening banana plantations. Thousands of Britons on holiday or visiting relatives were among those trying to leave Jamaica before airports closed.
Tourists in Caribbean jam airports to try escaping monster Hurricane Dean
Packing 150-mph winds, Hurricane Dean takes deadly aim at Jamaica …
SANTO DOMINGO, Dominican Republic — Alarmed tourists jammed Caribbean airports for flights out of Hurricane Dean's path Saturday as the monster storm began sweeping past the Dominican Republic and Haiti and threatened to engulf Jamaica and the Cayman Islands.
UPDATE: August 18, 2007 – 12:30PM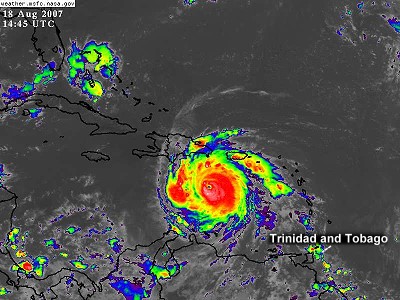 Hurricane Dean Heads for Dominican Republic, Jamaica
Hurricane Dean, expected to increase in intensity, roared past Puerto Rico, plowing its way west through the Caribbean Sea toward the Dominican Republic, Haiti and Jamaica.
Soggy Texas Braces for Hurricane Dean
Hurricane Dean prompts NASA to shorten spacewalk
Houston, Aug. 18 (AP): The astronauts aboard the shuttle Endeavour and the international space station prepared Saturday for the last spacewalk of their joint mission, an outing that was scaled back because of approaching Hurricane Dean.
NASA shortened the spacewalk by two hours to bring Endeavour back to Earth on Tuesday, a day early, just in case the storm veered toward the Houston home of Mission Control.
UPDATE: 11:15PM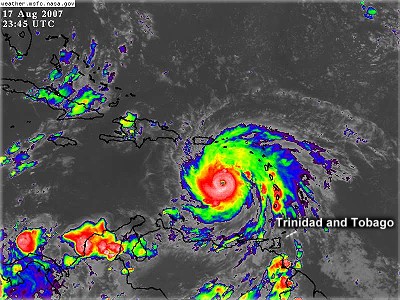 Hurricane Dean Gains Power in Caribbean
Hurricane Dean blows stronger; Mexico declares emergency
Killer hurricane menaces Caribbean
HURRICANE Dean ripped through the eastern Caribbean yesterday, killing at least four people, pummelling neighbourhoods with rain and causing landslides and floods…
Oil, gas prices jump
As Prime Minister Patrick Manning put the final touches on the 2008 budget, the hurricane caused oil and gas prices to jump on the possibility that energy production could be curtailed in the Gulf of Mexico, which produces roughly 25 per cent of the United States' oil and 15 per cent of its natural gas…
Dominica bananas battered
Dominica, which lies north of Martinique, had minor flooding, a few downed fences and trees and battered banana crops, one of the island's main exports…
Dean leaves woman dead in Mayaro
UPDATE: 3:30PM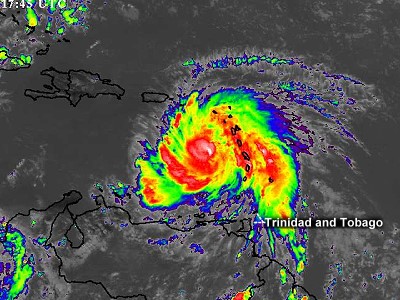 Hurricane Dean Tears Through Caribbean
High alert as Dean approaches
Lesser Antilles on hurricane watch
Hurricane Dean Batters Caribbean
Hurricane Dean strengthens in eastern Caribbean