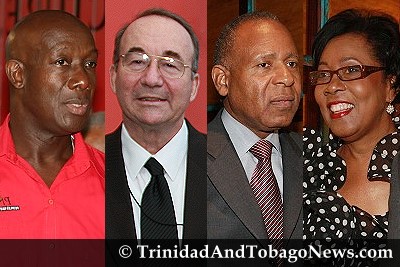 Newsday Editorial
Friday, May 14 2010
MANY must surely question how closely PNM leader Prime Minister Patrick Manning is actually following the wonderful list of ideals for handling his Cabinet Ministers, that he espoused to a PNM rally at Fyzabad on Wednesday night.

Manning began, in fact, by quite sensibly saying that as leader his policy when a Minister errs in his performance in his Ministry is to support the Minister in the public glare, but to chastise them quietly in private.
All well and good, as an ideal. However it is quite clear that to this rule Manning made one glaring exception — former Minister of Planning, Diego Martin West MP Dr Keith Rowley.
When Dr Rowley as Udecott's line Minister had complained to Manning that the then Udecott head, Calder Hart, was acting as a law unto himself, Manning not only refused to rein in Hart, but fired Rowley as Trade Minister, and spent the next few years lavishly praising Hart at every turn. So at the time when it really mattered, Manning fell woefully short of his own political dictum.
Addressing the Fyzabad crowd, Manning added that he would not stand by a Minister who has personally violated the codes of conduct and integrity expected of a person in public life.
While we will give Manning credit for sidelining two Ministers in the Cabinet appointed in 2001 who faced corruption charges, we say that again, the Udecott affair shows that Manning made one glaring omission to his very own precept, for a man now seen to have wielded almost more power than a Minister — Mr Calder Hart.
Here's what Manning claimed, in Fyzabad, "The minute anybody breaches the code of conduct and standards of integrity that are expected of a person in public office, they stand on their own. And if they have a case to answer, we will ensure that they have a fair trial and they will answer before the courts."
What the country is waiting to see is what will be Hart's fate in light of his apparent conflict of interest when Udecott gave a $368 million contract to CH/Sunway whose two former directors were Hart's in-laws. The word perjury is also being mouthed by observers who recall Hart's denial of such familial links to the Uff Commission.
So, given Manning's high-sounding words at Fyzabad, does he think Hart has a "case to answer", and does he think Hart needs to have a "fair trial" and to "answer before the courts"?
We also question Manning's supposed love of the word "integrity" which he repeatedly mouthed at Fyzabad, saying, "The one thing people know about me is that I stand for integrity and have always stood for integrity in the conduct of public affairs". We are not convinced. Manning's Government had to be dragged kicking and screaming by the force of public opinion, media lobbying and threatened lawsuit to effect the Integrity in Public Life Act.
Recently his Government tried to water down the Integrity in Public Life Act by such means as requiring whistle-blowers to expose their identity to wrongdoers. And of course we are not forgetting the fact that in clear violation of the spirit of the Integrity in Public Life Act which bans the use of public office for private gain, Manning appointed his wife, Mrs Hazel Manning, to a plum Cabinet post, twice in fact.
So while we say that Manning's supposed precepts are all very nice-sounding, we are not convinced that he implements them even-handedly, especially as most-strikingly shown by the Udecott scandal.
http://www.newsday.co.tt/editorial/0,120728.html