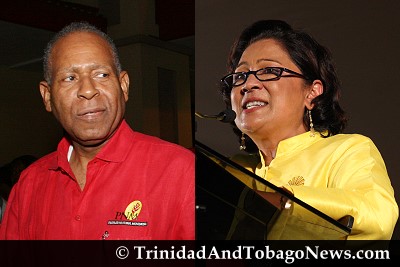 Kamla: I'm ready Manning: Nothing to gain
By Cecily Asson and Invera Arjoon
Wednesday, April 28 2010
WHILE UNC political leader Kamla Persad-Bissessar last night said she is willing to take part in a live national debate with Prime Minister Patrick Manning in the run up to the May 24 general election, Manning, who is the PNM's political leader, was reluctant to participate.

"What do I have to gain, what do I have to gain from doing a debate with Mrs Persad-Bissessar?
Nothing to gain, nothing to gain by that. That is all I could say, that is all I could say," Manning told reporters during a walkabout in Tarodale Gardens, Tarouba.
The Chamber of Industry of Commerce yesterday made an appeal to Manning and Persad-Bissessar to participate in a public debate to help electors make an informed choice. However, when questioned by reporters on this issue Manning said, "The campaign manager…that matter has been referred to him. Mr (Conrad) Enill is taking care of that."
Enill is the PNM chairman.
Pressed further Manning said, "It is unlikely that I will participate in any such debate…very unlikely. You know, in England recently, you all need to check to see what the implications of these debates are and depending on what side of the political fence you are on, people take different views as to whether you should have them or whether you should not have them." (The United Kingdom will have its general election on May 6.)
Full Article : newsday.co.tt
***
Manning on debate with Kamla: 'I have nothing to gain'
Prime Minister Patrick Manning has no intention of entering into any debate with Opposition Leader Kamla Persad-Bissessar before the May 24 general election.
T&T Chamber sets up commission
Chamber head: Public will benefit
Chamber of Industry and Commerce president Angella Persad feels certain that national debates among political leaders will work in Trinidad and Tobago (TT), as they have in the United States and recently Jamaica.
Not so fast, Mr Prime Minister
We respectfully invite Prime Minister Patrick Manning to review his remarks about bias involving this newspaper in the coverage of the current general election.