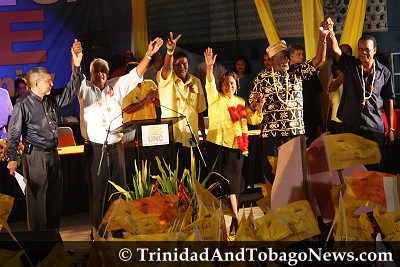 Opposition Unity Accord in Fyzabad Photo Album
Unity Accord signed
HISTORY was created at Charlie King Junction in Fyzabad when before a mammoth cheering crowd, the nation's Opposition parties signed a historic 'Declaration of Political Unity', last night.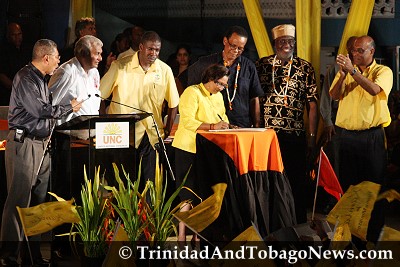 UNC, COP, NJAC, labour sign historic unity pact in Fyzabad
The partnership of the opposition parties and labour is promising accountability and no corruption should they be elected to government. They are also pledging that under a UNC government there would also be international observers to oversee every General Election whose report is promptly laid in Parliament.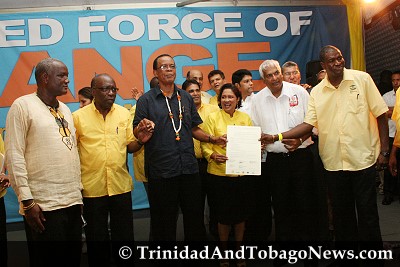 Daaga: My dream has been fulfilled
Exactly 40 years after his Black Power revolution was crushed, a triumphant Makandal Daaga last night acclaimed victory.
Parties to present teams, manifestos next weekend
The ruling PNM and the united Opposition force (UNC/TOP/MSJ) are both projecting to launch their respective candidates and manifestos next weekend, according to officials of each side.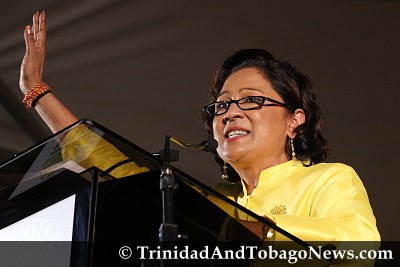 Fyzabad 'fire' for PNM
The road to capturing political power began in earnest symbolically at Charlie King Junction, Fyzabad last night for the people's partnership.
Enter the trade unions
The ruling PNM administration has succeeded in doing what ideology and common cause have not: bring the fractured elements of the labour movement under one umbrella.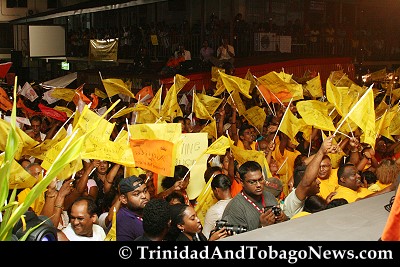 PM trains guns on unity leaders
Prime Minister Patrick Manning last night opened files on members of the Opposition united team and warned the population that United National Congress leader Kamla Persad-Bissessar will reign if she becomes Prime Minister, but the men around her will be the ones running the country.
Taylor booed, jeered in Moruga
Moruga residents jeered, booed and chased Princes Town South/Tableland MP Peter Taylor out of their community yesterday as they accused him of poor representation.
PNM's Taylor booed in Moruga
Member of Parliament for Princes Town South/Tableland Peter Taylor was booed and jeered when he arrived during a live radio broadcast in his constituency yesterday. And some villagers used the now popular 'Villafana dance' to express their disgust with Taylor's representation. Villagers crossed their arms to form the letter X and shouted at Taylor to leave the grounds at Fifth Company, Moruga.
Govt will fix all roads
WHILE the paving and upgrading of roads have traditionally been associated with an imminent general election, Works and Transport Minister Colm Imbert yesterday made an unprecedented announcement that with effect from yesterday, Government is taking total responsibility to "fix and repair every single road in the country."
UNC not good family like PNM says Imbert
'United Opposition no match for PNM giant'
A consolidated Opposition cannot unseat the People's National Movement (PNM), Kennedy Swaratsingh, Minister of Public Administration, has said.
Parties exploit the law
CHAIRMAN of the Elections and Boundaries Commission (EBC) Dr Norbert Masson yesterday called for reform of the rules governing election advertising, lamenting that parties across the political divide appear to be exploiting gaps in the legislation, currently governing the issue.
Dumas: Thomas-Roberts has my full support
PM challenges editorial on coalitions