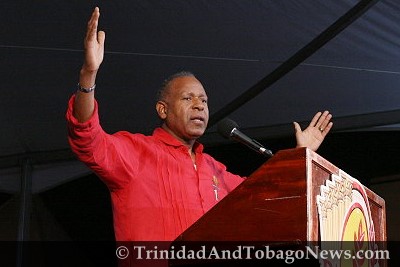 Announce election date
PRESIDENT of the Trinidad and Tobago Chamber of Industry and Commerce (TTCIC) Angella Persad yesterday urged Prime Minister Patrick Manning to announce the date of the general election "as soon as possible" as she warned that uncertainty over the date is affecting private sector investment.
…Chamber calls on Manning: Announce election date now
Prime Minister Patrick Manning has evaded any questions posed to him about the election, saying "no comment at this time. I spoke to you every day of the week so far."

A 'You Must Vote' campaign
One young PNMite told me that Mr Manning had to go but there was no way to remove him. I suggested voting the Opposition in for a term, which would allow the PNM to remove its present leader if they so wished, and then voting PNM into power in 2015. She, like so many, does not appreciate that voting is about principles, but it is also about tactics. You can't make an omelette without breaking eggs.
PM: I fear a PNM leak
Prime Minister and PNM political leader Patrick Manning yesterday said he alone knew the date for the general election as he feared it would have been leaked to the UNC, as had happened when called a snap election in 1995.
Government by deception
"What we have to guard against," the Prime Minister told reporters last Thursday evening, "is people on the eve of a general election, using parliamentary privilege to slander those of us in government." His comments came as part of a purported rationale for why he caused Parliament to be dissolved earlier that day, to prepare the way for a general election.
Leave Penny alone
"I want to ask Manning, did he not stand up in Parliament and congratulate me when I won the UNC leadership? So why is he terrorising Penny Beckles? Is it because Manning no longer has a heart? I mean, we all know Mr Hart (Calder Hart) flew out today," Persad-Bissessar said.
Pennelope Beckles out: PNM picks Lezama for Arima
LAUREL Lezama has been chosen as the prospective standard-bearer for the People's National Movement (PNM) in Arima for the upcoming general election, according to Prime Minister Patrick Manning. Lezama, 26, a relative newcomer to the political arena, was competing against veteran Pennelope Beckles for the right to represent the PNM in Arima for the still dateless impending general election. Dozens of Arima constituents gathered at Balisier House in Port of Spain to lend support to Beckles.
Rowley relieved as PM picks him for Diego Martin West
Dr Keith Rowley, who, after much uncertainty and speculation, was officially confirmed yesterday as the candidate for Diego Martin West, says he is relieved. Meanwhile Prime Minister Patrick Manning said last night told reporters that the PNM planned to use Rowley, one of the more effective platform speakers, on the election platform.
Now Anthony Roberts turns down PM offer
Former St Ann's East MP Anthony Roberts is the latest PNM nominee to turn down an offer from Prime Minister Patrick Manning to withdraw from the race to be a candidate in the general election.
Jack: Manning 'most wicked' PM
UNC Chairman Austin Jack Warner said last night that Prime Minister Patrick Manning, in his desperation, has embarked on a dangerous path of inciting an environment of religious polarisation.
Ramesh: Why should I be screened?
With two members of the once powerful Ramjack-G faction of the United National Congress (UNC) selected unopposed as candidates for the general election, Tabaquite Member of Parliament Ramesh Lawrence Maharaj is the only one with an uncertain political future.
…I turned down foreign jobs for Tabaquite seat
COP screens 12 potential candidates
The Congress of the People (COP) yesterday screened 12 persons as possible candidates to contest seats in the upcoming general election.
Bas: People want me to fight Jack
Panday: My job is to get rid of Warner
The choice facing Basdeo Panday
So Mr Panday's concern seems not even to be what is good for the UNC, despite his posturing declarations otherwise. Rather, it's a personal grouse against Mr Warner. Moreover, if he does indeed decide to fight Mr Warner as an independent, it will appear as though he is banking on a race-first chauvinism to achieve victory. Such a strategy is likely to fail, however, given the huge number of votes Mr Warner got as a candidate in 2007, and for the UNC chairmanship in January.
Manning's 'vilification'
PRIME Minister Patrick Manning and his wife, Local Government Minister Hazel Manning, last Monday clearly took a gamble when both accused certain unnamed detractors of vilifying the Manning Government.
Why Manning 'most vilified' PM
Labour's resurgence in local politics
WITH trade unions officials indicating they will be developing a workers' agenda to present to political parties and using their clout to swing votes to the party best representing interests of the working class, political experts saw this as a resurgence of the active involvement of labour in politics.
My craft not about money
Ras Kommanda on Crazy's UNC calypso
Anti-PNM song puts Preacher in hot water
Jai: Leave me out politics
"I WOULD rather stay out of politics…so I have no comment to make on the issue," Chutney Soca Rikki Jai said as he yesterday steered clear of Prime Minister Patrick Manning's use of a segment of his 2010 hit song 'Barman'.