By Stephen Kangal
April 13, 2010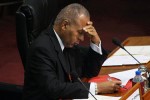 It is patently clear that the cohesive, disciplined but inept and groping-in-the-dark Manning Administration had all but collapsed under the increasing weight of his arrogant and errant ways, the secretive, non-transparent vandalisation of the public purse, astronomical exorbitantly priced politicization of the Public Service, its collision course with Trinbagonians and a concatenation of unfavourable events.

The stars were in discord in the firmament.
How the calling of snap elections in mid-term in the face of these insurmountable adversities will improve the lot of PM Manning appears not to have been addressed by him. He chose the maximum cost-minimum benefit option. The stocks of the PNM were at their lowest ebb. The people will totally reject his brand of cohesive and loyalists-driven political mismanagement that is in the DNA of the PNM. The prophetess on whom he is waiting to get the date has misled him again.
Post-elections win or lose Manning and the country will be worse off. The property tax, TTRA, UDECOTT, the Rapid Rail provoked and evoked deeply ingrained widespread public discontent. His privatization of the public service touched a raw nerve in the psyche of the people. He has squandered all credibility.
But were Manning to prevail, God forbid, his new government could hardly survive last another year. He is so steeped in his dictatorial ways and squandermania of the national patrimony that changing course to adopt a new set of national priorities is congenitally impossible and will not be supported by the electorate.
The PNM could theoretically speaking re-brand itself under new and enlightened leadership. That option has been suppressed by power-hungry and prime ministerial security of tenure-driven Manning. But its operating culture makes this mission impossible. Hitherto since 1991 and before the PNM has demonstrated that it cannot resist plundering the public purse via waves of wild prodigal spending. Today that cannot be sustained by the constraints and vagaries of the volatile world energy market.
Time to think of donning sacerdotal robes to continue the Elma Gantry deception!