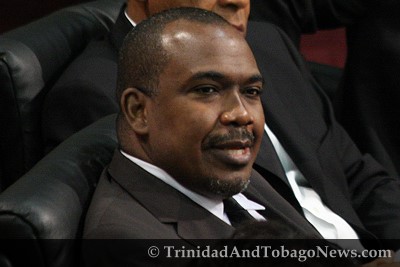 AG exposes deep Govt bias
If, according to AG John Jeremie, Prime Minister Patrick Manning stands vindicated by the Uff Report for his pursuit of the $10 million discrepancy on the Cleaver Heights housing project, by the same logic the Prime Minister and his entire Cabinet must be criminally negligent in failing to prevent the pillage of hundreds of millions of dollars on several construction projects undertaken by Udecott. Sadly, the Attorney General's statement in the Parliament on Tuesday in laying the Uff Report only illustrated the deep bias held by the Government in the matters probed in the Uff enquiry.

An agenda to be queried
Why is the Government straining at the gnat of Cleaver Heights while swallowing the camel of Tarouba? By now, the public, whose interests have evidently been compromised at both places, can make an educated guess.
'…Revoke Annisette's Senate appointment'
President must remove Annisette
Now that the Cabinet has acted quite correctly and fired the Udecott Board, including Senator Michael Annisette, it now seals the argument that President George Maxwell Richards must remove Annisette as an Independent Senator.
'$m profit: not the union'
NATIONAL Union of Government and Federated Workers (NUGFW) president general James Lambert said he could shed no light on the approximately $5 million profit earned by a union-affiliated construction company after it sold a parcel of land to the Urban Development Corporation of Trinidad and Tobago (UDeCOTT) in 2004.
NUGFW waiting on Udecott houses
Possible Udecott/Genivar link
UDECOTT'S regular employment of project management firm Genivar may give rise to the impression of a "special relationship" between that Canadian company and Udecott, chairman of the Commission of Inquiry into Udecott, Professor John Uff, has found.
Philbert yet to look at Uff report
ACTING POLICE Commissioner James Philbert said that his office has received the rep
TT housing plagued with 'scandalous' problems
WITH THE STATE rushing to meet its housing goal of 8,000 housing starts per year, the housing sector in Trinidad and Tobago has been plagued with "scandalous" problems and "poor organisation and administration", according to the findings of the Uff Report.
Neelanda Rampaul still at Udecott
DESPITE her resignation, Udecott Chief Operating Officer Neelanda Rampaul will stay on at this special purpose state enterprise, until the end of this month. Rampaul resigned on March 29 and in her resignation letter, she indicated that she would vacate office effective April 30.
Fired Udecott directors won't quit other posts
TWO PERSONS fired from the Udecott board and who sit on the board of other State enterprises, yesterday insisted there is no reason for them to step down from these boards.
I've no role in naming board
UDECOTT Chairman Jearlean John will have no role in the selection of new directors to replace those who were fired by Government in the wake of damning findings in the Uff Commission of Inquiry Report.
UDeCOTT casts shadow over TTRA debate
…Praise for staff from UNC senator
"Overworked and underpaid," was how temporary Senator Christopher Joefield described employees of the Board of Inland Revenue (BIR) and the Customs and Excise Divisions, who will be affected by the establishment of the Trinidad and Tobago Revenue Authority (TTRA).
Cabinet gets TTRA deal today
A proposal that Board of Inland Revenue and Customs and Excise Division workers who are not rehired under the TT Revenue Authority (TTRA) are to be employed elsewhere in the Public Service is one of the recommendations of a new memorandum of agreement (MoA) which goes before Cabinet today.
Nightmare for BIR, Customs workers
Work continues on Guanapo church
Corporation hands tied on church
CHAIRMAN of the Tunapuna/Piarco Regional Corporation Patricia Mejias yesterday insisted the church at the Heights of Gunapo, currently under construction, cannot be demolished unless Town and Country Planning gives the directive for the corporation to do so.
Manning goes for 10th election win
Flag Haunts Hunt
PM and nine MPs face screening at Balisier House
Marlene booed outside Balisier House
Gopee-Scoon facing fight to keep Pt Fortin seat
Rambachan asked to represent Couva N
No PNM march
ACTING Police Commissioner James Philbert rejected a request by People's National Movement (PNM) Political Leader, Prime Minister Patrick Manning, for PNM supporters to stage a march in Port-of-Spain on Friday.
Manning to appeal top cop's decision
Philbert also denies Fitun
David Abdulah, president of the Federation of Independent Trade Unions and NGO's (Fitun), said last evening the reason the acting Commission of Police James Philbert gave for denying them permission to march in Port-of- Spain on Friday does not hold water.
Kamla to Manning: Call election date