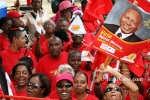 Manning puts T&T in election mode
Prime Minister Patrick Manning put the country in election mode yesterday, when he announced that April 7 would be the start of screening of 41 new candidates.
Manning sets the election ball rolling…
While the country was expecting the long-overdue Local Government election date, Prime Minister Patrick Manning yesterday went for the whole hog, and called for nominations for candidates for a general election.

PM: Get Ready For Elections
PRIME Minister Patrick Manning yesterday strongly hinted at a snap general election, which legally isn't due until 2012…
…Analyst: It's an admission of failure
Manning bluffing
It's a distraction! That's the cry from three Opposition backbenchers, responding to Prime Minister Patrick Manning's announcement, yesterday, of an immediate screening of candidates for the next general election.
Manning to hold 'World Business Forum, not summit'
Kamla: Bring it on
Opposition Leader Kamla Persad-Bissessar was in an exultant mood yesterday at the 20,000-plus Voice of the People rally in Saith Park, Chaguanas, as she baited Prime Minister Patrick Manning to bring the next general election.
Kamla: I'm ready for any election
Manning's days are numbered, she tells Voice of the People rally
UNC claims HDC voter-padding in Opposition strongholds, marginals
Fed-up 'army' behind Opposition
An army of frustrated and fed-up people are ready to stand behind Opposition Leader Kamla Persad-Bissessar to battle the People's National Movement (PNM) government in a general election.
Opposition parties welcome unity
Tremors of UNC unity and disunity
With local government election due this year, the opposition party, United National Congress (UNC) and its non-elected counterpart, Congress of the People (COP), are drifting toward the kind of political engagement that their respective constituencies have been hoping for since the last general election.
Crowd of 20,000 in 'united show of force' against Govt
THEY came out in their numbers in a united show of force against the ruling Patrick Manning government. Political parties, labour leaders, business and non-governmental organisations all expressed support for the movement towards a unified front, led by Opposition Leader and United National Congress (UNC) Political Leader Kamla Persad-Bissessar.
Maraj talks about Williams' legacy
Former minister Ralph Maraj captured the mood, the spirit and the moment at yesterday's convention with a speech for the ages.
Ralph Maraj – PNM has endured because of Eric Williams
Resolve issues with Manning
If the standoff in the PNM involving Diego Martin West MP Keith Rowley is not resolved constituents might have to ask the PNM leadership for a new candidate next election, PNM Diego Martin West activist James Thomas has said.
PSA calls for public solidarity against TTRA
Same-sex schools or not
WE look forward to an enlightened debate on the issue of single-sex schools, which since mooted a week ago by Education Minister Esther Legendre seems to have generated more heat than light.
Urgent need for NAPA consultation