By Newsday Reporter
Tuesday, April 17 2007
Trinidad and Tobago News Blog
www.trinidadandtobagonews.com/blog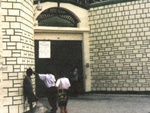 ANITA ANAMUNTHODO, mother of Amy Emily Anamunthodo, the four-year-old girl who was raped and beaten to death last year, was yesterday freed on six charges of wilful neglect and child abandonment. Deputy Chief Magistrate Mark Wellington, presiding in the San Fernando First Magistrate's Court, freed the mother due to the non-appearance of police complainant PC Hamilton (since August 2006) and other prosecution witnesses.
Wellington yesterday discharged Anamunthodo, 19, of Marabella, who had been in custody since she was charged in May last year. She was granted bail but no one went forward to stand the bail of $7,500.

Anamunthodo's freedom came 11 months after the gruesome death of Amy on May 15, 2006. Amy's body was found at the Union Road, Marabella home she shared with her mother and stepfather Marlon King. Anamunthodo was charged with child neglect and endangering her daughter's life on six occasions. King was charged with the girl's murder. He was committed to stand trial and is due to answer the charge before a judge and jury in the San Fernando High Court.
Yesterday, the case was called by Wellington and Anamunthodo was escorted into court. She stood before the magistrate expressionless. Wellington inquired about the police complainant, but the court police prosecutor Sgt Joey Samaroo, replied that he was absent.
The magistrate, in taking a written record of his non-appearance, said the police complainant had been absent since August 2006. Wellington asked if any prosecution witnesses were present in court and the prosecutor replied that their was none. The magistrate then told Anamunthodo that she was discharged. Anamunthodo was escorted back to the San Fernando Police Station, but as she walked pass her mother, Chanardaye Basdeo, in the court's corridor, she smiled.
Basdeo followed her daughter to the station. After Anamunthodo signed her release documents and collected her belongings which were stuffed into two bags. She hugged her mother.
Anamunthodo told Newsday she didn't expect the court to free her.
"I accustom to adjournment everytime. I wasn't really prepared for this." Overjoyed by her freedom, Anamunthodo vowed not to have any more children soon.
About her murdered daughter, Anamunthodo said she became haunted in jail by the horrible way in which Amy died. She had praise for her mother. "When everyone else gave up on me, my mother never did. I now want to make my life right with my mother and right with my God. I used to see Amy right through the day and night in prison. I won't have any more babies now," Anamunthodo said.
Anamunthodo said she has begun to pick up the pieces. While in jail, she began studying for School Leaving Examination, an exam which she would sit next month.
Anamunthodo, who turns 20 in June, had advice for young people.
"Jail is not a nice place. Think before you act," she said.
Basdeo, in expressing joy over her daughter's release, said, "I'm happy for her and she must behave herself now. We're going to move from where we are living."
www.newsday.co.tt/news/0,55584.html
Trinidad and Tobago News Blog's URL for this article:
www.trinidadandtobagonews.com/blog/?p=219