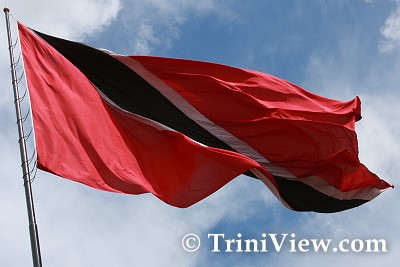 By Walter Alibey
Thursday, November 5 2009
AFTER weeks of denials, the Ministry of Sports and Youth Affairs yesterday admitted that the controversial flag at the Hasely Crawford Stadium in Port-of-Spain had indeed cost taxpayers approximately $2 million.

Sports Minister Gary Hunt has been under intense public criticism following reports the flag cost Government $2 million and he has been at pains since then to justify the expenditure without confirming the sum.
And Hunt left it to Kenneth Charles, chairman of the Sport Company of Trinidad and Tobago (SPORTT), to disclose and give details of the cost rather than do so himself during a press conference at the office of SPORTT, Henry Street, Port-of-Spain.
Charles, reading from a prepared text, told the media that Fire One Fire Works, the contractor, who has erected a similar flag at their premises in Macoya, had been given the tender to design and construct the flag because of their competitive price, experience with a similar installation as well as the support of their supplier in the United States.
Fire One Fire Works bettered bids by two other companies— Phabha Sports of the United States and Excellent Technologies of TT.
Charles then gave the following details:
* The flag, which is made from nylon and measures 60 x 36 feet, cost $18,112.15, VAT inclusive;
* Foundation and installation works— $940,000;
* Design and supply of monster flag pole— $932,400
* Three additional flags— $54, 336.
"This totals approximately two million TT dollars," Charles said, before making a comparison of the cost of a similar sized national flag of Jordan, a Middle Eastern country.
Full Article : newsday.co.tt
WHAT IS THE FUSS?
Sport Minister defends $2m flag…
N the face of apparent unrelenting condemnation over the $2 million cost of the 'legacy' flag hoisted in the Hasely Crawford Stadium, Sports Minister Gary Hunt yesterday dismissed reports that the flag was having the opposite effect of what it was meant to achieve – which is national pride.
'I disagree. You just have to go on Facebook and you would see some of the arguments and support that is there. It has huge support online,' he said.
Told that there were some adverse comment in the media, Hunt replied: 'I haven't heard any. From my walkabouts, I have heard no such comments… I have just come from the walk from Hutton Road, Cascade, in my constituency and I have had no such comments.'
He was speaking at a news conference at the Sport Company, at which the Sport Company of Trinidad and Tobago (Sportt) confirmed that the erection of the controversial flag cost $2 million.
Full Article : trinidadexpress.com
It's official—$2m for flag
It's official. The 60 feet by 36 feet national flag fluttering at the Hasely Crawford Stadium cost $2 million. In response to recent criticism from the media and the public on the actual cost of the flag, Minister of Sport Gary Hunt and chairman of Sport Company of Trinidad and Tobago (Sportt) Kenneth Charles have confirmed that total price of the flag is $2 million and the job was contracted to Fireone Fireworks.
Full Article : guardian.co.tt
Hunt on Facebook: It's $15,800
Trinidad and Tobago News Blog's URL for this article:
www.trinidadandtobagonews.com/blog/?p=1828