Newsday Editorial
November 03, 2009 – newsday.co.tt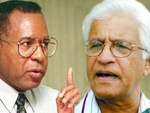 What is the real agenda for the sudden meeting between Prime Minister Patrick Manning and embattled Opposition Leader Basdeo Panday?
According to the official line, Manning has invited Panday to the Diplomatic Centre in St Ann's to discuss "national issues — crime and the constitution." Basdeo Panday has jumped at the invitation, saying "It is my duty to respond…"

Forgive us our skepticism but political observers are of the opinion that Prime Minister Manning has not changed one iota since he announced in 1995 that the PNM stands alone and falls alone. Basdeo Panday has never been one to understand his "duty" in public affairs. His position, as Opposition Leader — and defined by himself — is to "oppose."
Given the PNM's position that all is well in Trinidad and Tobago, that they are on top of the crime situation, that the economy is merely passing through a "blip," and that CHOGM is going to bring massive benefits to the country, one wonders why Manning would suddenly request a meeting with the badly wounded, lame-duck Panday? Panday is spending more time fighting off the slings and arrows directed at him.
And why would Panday so suddenly become aware of his "duty" to discuss these matters — crime and the constitution? He refuses to support government initiatives in parliament, but is duty-bound to visit the Prime Minister's expanding residential complex for private discussions?
Is this really a meeting between the Prime Minister and the Leader of the Opposition, or is it between the Party Leaders of the PNM and the UNC?
Many political observers wonder. We raise these questions in light of two separate but interesting reports. First, there is the announcement that the PNM is being put on election watch, and Manning is calling out his troops, suggesting more and more that an election could be in the air, possibly in December or January.
So is there another agenda for the Manning/Panday meeting on Tuesday? For that we look to the second interesting report, which comes in the form of a letter from Chaguanas West MP Jack Warner to his supporters, suggesting consultations between the PNM and the UNC to squeeze out Ramjack once and for all, and now of course, Dr Keith Rowley.
Given the current state of politics, could it be then that the Manning/Panday meeting is far more likely to be in the mode described by Warner, than a genuine meeting to overcome our crisis in crime?
Both men are seriously embattled, and there is rising respect for the still un-united dissidents — Ramjack, Rowley, and of course, COP.
Clearly, recent events have exposed the problems of both Manning and Panday, and this meeting seems more of a "Party Shoring Up" exercise than a meeting for the national good, according to some political observers.
Interestingly, the PNM held a meeting at Cascadia last Saturday which was addressed by Prime Minister Manning, which was viewed as the stepping up of campaigning. Indeed, PNM party chairman Conrad Enill admitted that the 15 constituencies held by the UNC would be targeted.
And now Manning and Panday will meet. What really is to be made of this?
http://www.newsday.co.tt/editorial/0,110316.html
Trinidad and Tobago News Blog's URL for this article:
www.trinidadandtobagonews.com/blog/?p=1807