By Errol F. Hosein
January 27, 2007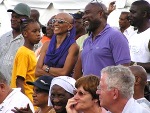 The recent slaughter of four individuals in Morvant including a police officer and the horrific exposure to the atrocity by a young child, is a startling reminder that few are safe from harms way in our present-day society.
We are rapidly becoming a dysfunctional society in which crime and criminals command respect. Too frequently we make comparative analysis about crime and criminal activity in other countries around the world as if to minimize the pain and suffering that we are presently experiencing. This is simply morbid.

As a society, we created the plague that is upon us. We politicized crime. And like little children we are fed imps and blimps to distract our attention from the rot that continues to devalue life.
It is apparent that the Carnival season lasts all year long as irresponsible behavior no longer endures a mere two days. Even as we complain, our attitudes are not reflective of a people who are serious about the spiraling level of crime and criminal activity in our nation.
The concerns echoed as a result of the Morvant massacre are just temporary exercises. In a few short weeks, maybe days, we will be back to our old selves; presupposing that the next victim will be someone else. That has become our comfort zone as we adjust to the gradual change in the behavior of the criminal element that we have coddled and empowered.
There is a commonality between our haves and have-nots. They all reside behind bars. As a nation our political DNA reflects the kind of governance that we subscribe to and it did not begin with this present administration. We, as a people, have openly created the existing monster that gnaws at the moral fabric of our blood-stained national character. It grew over time and it is now poised to devour future generations of innocent citizens because we have failed them. Perhaps, as a people we are only meant to be led. And that in itself is rather tragic. How many more must die before we rise up and effectuate change, how many?